Animal Welfare Services (AWS) has charged Marineland over the alleged poor care of three captive black bears—including crowded living conditions, inadequate water, and lack of climbing space.
The charging document, obtained by Animal Justice from the courthouse, reveals that the law enforcement agency issued three orders to Marineland in June 2021 to improve conditions for the three bears, including:
Giving the bears more space. The bears were supposed to have at least 5,000 square feet each, according to the agency, or at least 10,000 square feet for all three.
Providing the bears with a permanent source of filtered water that would be clean and drinkable.
Giving the bears access to vertical space, so that they could climb and enjoy natural movement patterns.
AWS has the legal power to issue orders to improve living conditions if it believes that animals are in distress. Failing to respect an order carries a penalty of up to $75,000 and six months in jail.
Years of Animal Abuse at Marineland
Members of the public have been concerned for years about the heartbreaking conditions bears endure at Marineland. In 2022, Animal Justice visited Marineland and saw bears with gashes on their faces. An employee confirmed that this was due to fighting.
This is not the first time Marineland has been charged with offences related to animal cruelty.
In 2016, the Ontario Society for the Prevention of Cruelty to Animals (OSPCA) charged Marineland with five counts of animal cruelty over the improper care of black bears, guinea hens, and a peacock. In 2017, the OSPCA laid six additional charges over the poor treatment of elk and deer. Shockingly, the Crown later dropped those charges.
In 2021, Marineland was criminally charged for illegally forcing dolphins to perform for entertainment, following a legal complaint by Animal Justice. Again, the charge was dropped by the prosecutor, who claimed that proceeding to trial was not in the "public interest".
In 2021 and 2022, Animal Justice filed multiple legal complaints with AWS after heartbreaking videos surfaced showing Kiska, the sole orca, in clear distress—floating listlessly and slamming her body against the side of the tank.
Kiska tragically died at Marineland in March 2023 after suffering for over 40 years in a tank, and over a decade in solitary confinement. Unfortunately, AWS has yet to lay any charges against Marineland for the appalling, unlawful conditions that Kiska was kept in—even though she suffered from obvious physical and psychological distress.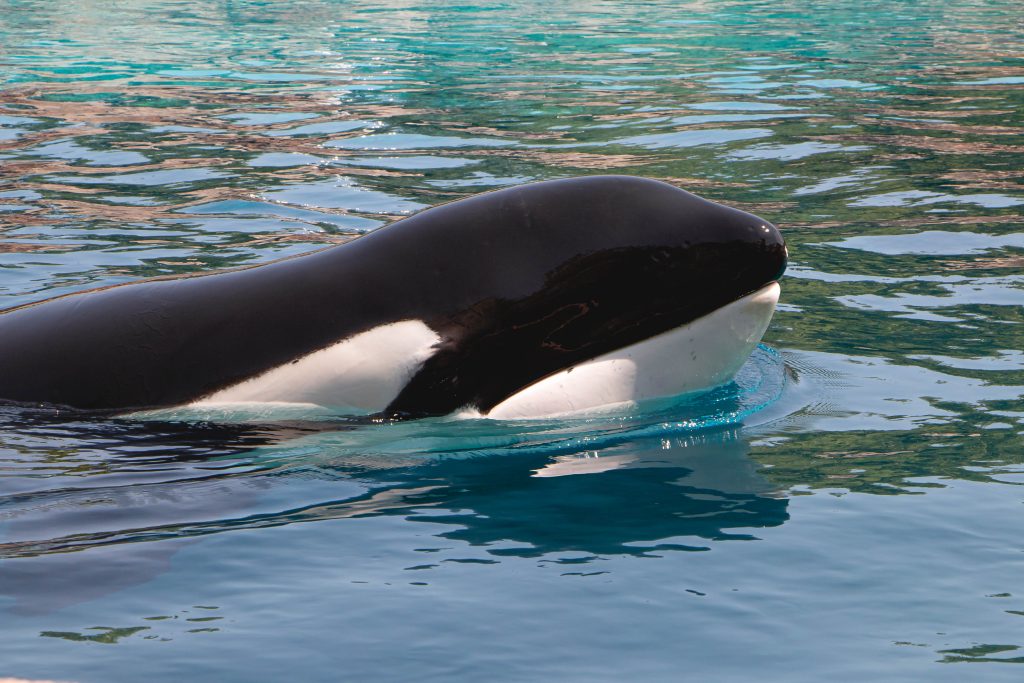 Lack of Transparency at Marineland
Marineland is also notorious for hiding information from the public. Just two months after Kiska's death, a beluga named Kodiak and a dolphin named Sonar died at Marineland. AWS confirmed that the park had provided necropsy results to the agency. However, neither Marineland nor the AWS would share the autopsy reports publicly, leaving people in the dark about how bad the situation truly is for animals at the aquarium.
Marineland Lawyer Faces Charge
Recently, Marineland's lawyer Andrew Burns was charged with violating the Lobbying Act, regarding alleged unlawful lobbying activities while Marineland was fighting to stop Canada's anti-whale captivity legislation from passing. Fortunately, Canada passed laws in 2019 making it illegal to keep any future whales and dolphins in captivity, or to breed existing ones.
Animal Justice will continue working to protect the many captive animals at Marineland, including pushing for charges when animals face blatant cruelty. Please join our call for justice.