Three black bears have been seized by authorities and rescued from the notorious zoo and aquarium Marineland in Niagara Falls, Ontario. Authorities have also charged Marineland with three animal welfare offences over the cramped and barren conditions the bears were kept in.
Last year, three-year-old Sasha was successfully relocated to the Aspen Valley Wildlife Sanctuary in Rosseau, Ontario and was placed under their foster care. On February 18, 2023, two additional bears, now known as Maple and Sugar, were seized from the park and brought to the Bear With Us Centre for Bears in Sprucedale, Ontario.
On June 21, 2021, Ontario's Animal Welfare Services (AWS) issued three orders to Marineland to improve conditions for the three bears after they were found living in crowded living conditions with inadequate water and a lack of climbing space. According to AWS, Marineland failed to comply with the orders, so in May 2023, authorities laid charges against the park over the poor care of the bears.
When Animal Justice visited Marineland while conducting Canada's largest-ever zoo exposé in 2022, we witnessed bears living in a depressing outdoor pit with deep facial wounds, which staff confirmed were the result of fighting. The three rescued bears were allegedly kept separately from the bears in the pit and forced to live completely indoors.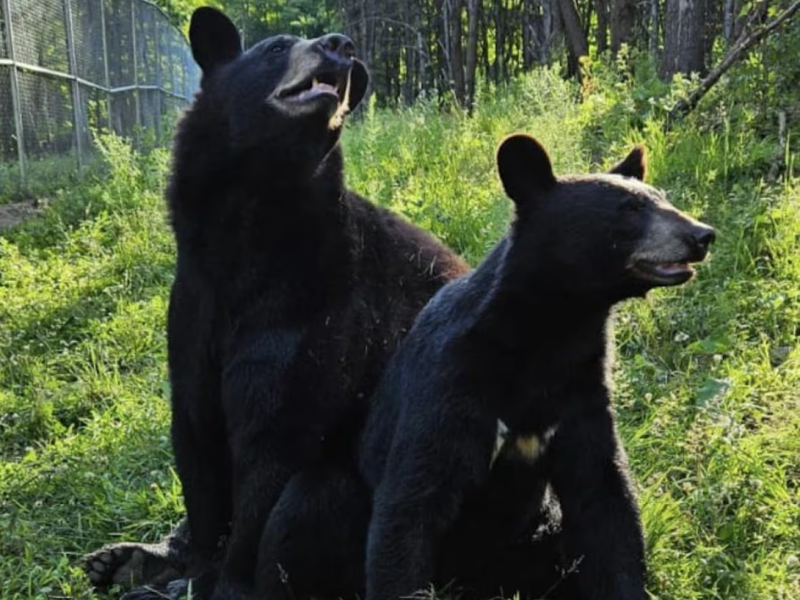 Rescued Bear Didn't Understand Trees
Upon his arrival at Aspen Valley, Sasha initially displayed signs of uncertainty, according to Jan Kingshott, Aspen Valley's director of animal welfare. "He didn't understand trees, dirt, mud, or snow," she told CBC News.
According to Kingshott, it took some time for Sasha to acclimate to the natural surroundings, which included the sounds of birds and wolves. Luckily, after winter hibernation, his confidence improved and he began living with a bear named Clover. According to Aspen Valley's website, it was an incredible moment when the two got together for the first time. And after Sasha was successfully integrated, Aspen Valley put in a request to formally adopt him. In early September, the adoption papers were signed and he became a permanent resident of the centre.
History of Animal Cruelty & Charges at Marineland
While Marineland is currently facing charges over the poor care of the three bears, the park has faced over a dozen other animal cruelty charges in recent years. And yet, Marineland has never once gone to trial.
Between 2016 and 2017, Marineland was hit with 11 provincial animal cruelty charges related to the distress of black bears, guinea hens, a peacock, elk, and deer.
In 2021, Animal Justice filed a complaint over illegal dolphin performances for entertainment purposes at Marineland, which led to a criminal charge.
But despite Marineland's troubling history of provincial and criminal animal welfare violations, prosecutors continue to drop charges and have failed to bring any cases to trial, sending a clear message that zoos and aquariums can get away with unlawful activity.
Recently, new records revealed that 15 whales and dolphins died at the facility since 2019, including orca Kiska. She was known as one of the loneliest orcas in the world and spent more than a decade in complete isolation. No charges have been laid to date over these shocking deaths, and the blatantly illegal suffering that Kiska endured.
Animal Justice will keep working to hold Marineland accountable for its long history of cruelty to animals. Please join us in demanding justice for Kiska, and remember to never buy a ticket to a zoo, aquarium, or any facility that displays animals for entertainment!
---
Banner: Aspen Valley Wildlife Sanctuary