New government documents obtained by Animal Justice through access to information laws reveal that the United States Department of Agriculture (USDA) turned away an overcrowded truckload of Canadian pigs at the US border, after inspectors found some pigs had died, and others were suffering from heat stress.
The pigs were being shipped from Manitoba to the United States for slaughter on a hot and humid day in June 2022. Records indicate it was 24 degrees Celsius with 90% humidity.
In an email communication, Canadian Food Inspection Agency (CFIA) veterinarians agreed with the USDA that the pigs would have endured even greater harm if they had been allowed to cross the border for slaughter in the US. The CFIA acknowledged that the driver should have "exercised greater caution", also noting this was the second time this had happened to pigs coming from the same farm.
In Canada, it's a criminal offence to cause animals to suffer in transport, yet the CFIA regularly fails to prosecute illegal transport cruelty, even in egregious cases. It is unknown whether charges were laid in this instance, but the records obtained by Animal Justice revealed no suggestion of enforcement action.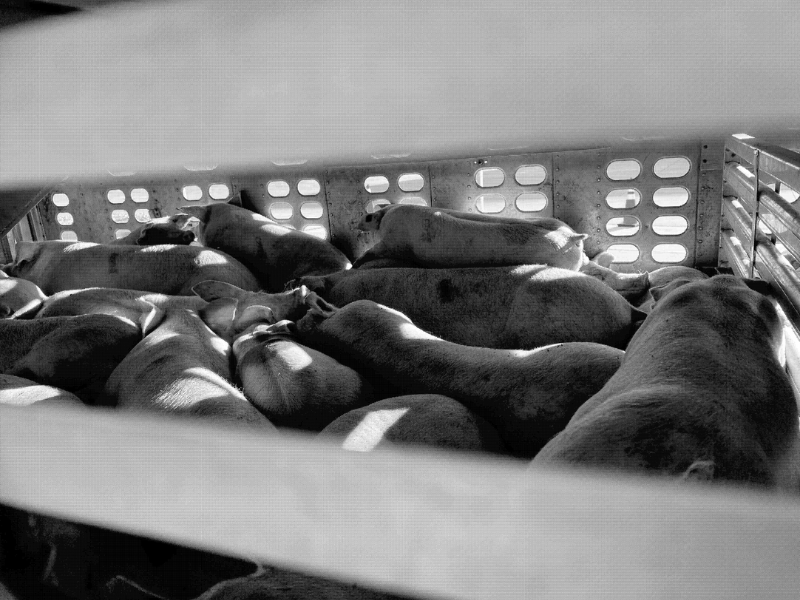 Canadian Transport Laws Fail Animals
Even when farmers and transport operators follow the law, Canadian animal transport regulations are the worst in the Western world, allowing farmed animals to ride in trucks for up to 36 hours without food, water, or rest (and 72 hours for newly-hatched chicks). There is no legal maximum or minimum temperature for which farmed animals can be transported. It's common for farmed animals to endure prolonged and brutal deaths from heat stress in the summer, or extreme cold in the bitter winter months.
Ag Gag Laws Conceal Transport Cruelty
While the federal government chooses to ignore much of the illegal animal suffering that occurs in transport, governments regularly target activists and undercover investigators working to expose the neglect and cruelty taking place.
In recent years, several provinces have passed dangerous ag gag laws that make it illegal to uncover abuse in farms, slaughterhouses, and in transport. Animal Justice is currently suing Ontario to strike down its ag gag law, and is fighting to stop a federal ag gag bill from passing.
Please join us in taking action to help ensure animal advocates have the right to peel back the curtain on widespread cruelty in Canada's meat industry.