Our voices are being heard! Loblaws is finally going public with data on its cage-free egg sales, following months of public pressure from Animal Justice and our supporters.
In 2016, Loblaws announced a groundbreaking commitment to phase out the sale of eggs from hens confined in cages by 2025. This commitment was welcomed as a significant step towards banning some of the cruelest practices for laying hens, who endure cramped and unnatural conditions in tiny wire cages cages.
But as the 2025 deadline drew closer, Loblaws refused to share a roadmap to fulfill their commitment, and then in a shocking move, announced they would no longer meet their 2025 deadline. This broken promise, coupled with a lack of transparency, led to mounting pressure from customers.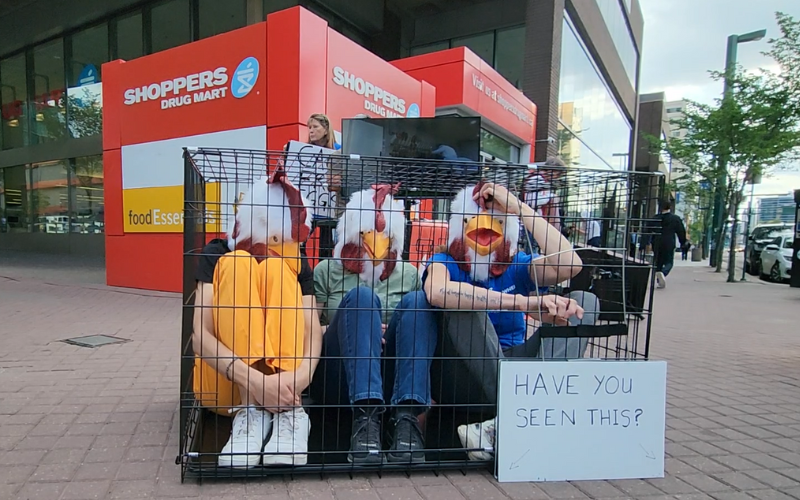 Loblaws reaffirmed their commitment to eventually going 100% cage-free eggs in a 2022 sustainability report, but still says the 2025 deadline will not be met. The company also won't share a new deadline, or any details of their roadmap to meet the cage-free goal. The only information Loblaws shared previously is that their PC house brand is already cage-free.
While Loblaws was making headlines, other major grocers like Costco and Sobeys have been more transparent, by sharing how much of their egg sales are cage-free. Fuelled by this growing trend towards disclosure, concerned consumers and the Animal Justice Action Team have been reaching out to Loblaws for months, requesting this information. The Animal Justice Action Team has been consistently contacting Loblaws' executives, posting their concerns on social media, holding protests, and demanding answers about Loblaws' progress, transparency on their deadline, and roadmap to meet their policy.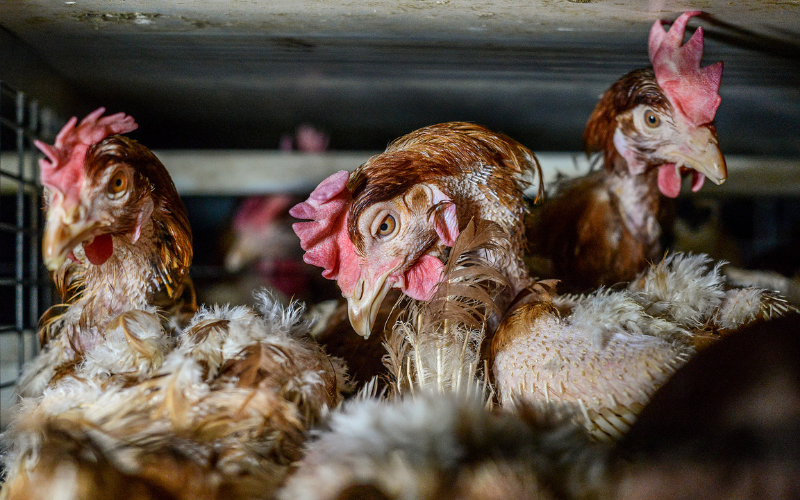 Loblaws Finally Discloses Cage-Free Egg Sales
In response to these inquiries and the escalating pressure, Animal Justice noticed that Loblaws has quietly updated its 2022 report. The company now discloses that in 2022, the sale of cage-free eggs accounted for approximately 17% of sales. This newfound information is a welcome change, and shows the impact concerned consumers can have when they raise their voices.
This step towards transparency is a necessary and positive development. But unfortunately, selling only 17% cage-free eggs falls short of where Loblaws should be after committing to this change back in 2016. With only 17% of Canadian egg production coming from cage-free hens, this figure is consistent with the national average. In other words, Loblaws isn't leading the way on moving towards an entirely cage-free supply chain.
As responsible consumers and advocates for animals, it is essential that we continue to hold companies like Loblaws accountable. We can celebrate this progress which shows that we are being heard, and insist on further transparency with a clear roadmap to achieve the 100% cage-free goal.
Thank you to everyone who has joined the fight to get caged cruelty out of Canada's largest grocer. Please add your voice today to help make a difference for caged hens.
---
Banner Image: Andrew Skowron | We Animals Media