On July 21, 2023, Animal Justice supporters in Edmonton took to the streets once again, where they held a second protest against Loblaw for their continued sale of eggs from caged hens. This time, protestors spoke out against Loblaws City Market, and demanded that they keep their promise to stop selling eggs from hens used in this cruel practice by 2025.
These advocates are keeping the pressure on Loblaw's brands, and are using real cages to show the horrible conditions in which caged hens are forced to live. In these cages, hens do not have enough space to spread their wings or even walk around.
In 2016, Loblaw promised to only source 100% cage-free eggs in their stores by 2025. Seven years later, the company says that it will not meet this deadline, and is not sharing any information on a new commitment to eliminating cages in their supply chains. This practice is considered to be among the worst in farming due to the immense suffering it inflicts on hens. In recent years, many grocery leaders around the world have pledged to ban the sale of caged eggs. Loblaw, however, has not followed through in doing the same.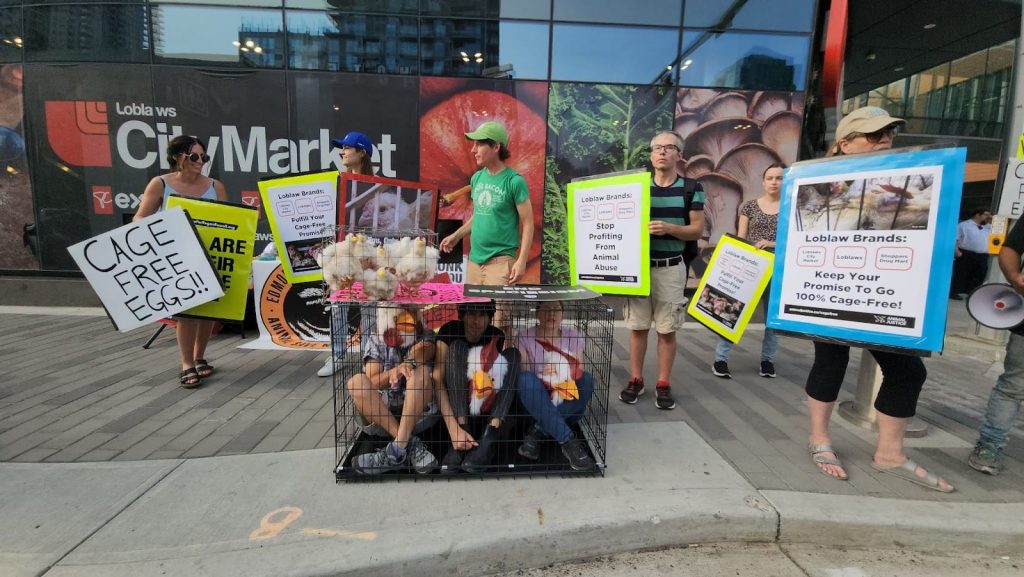 Over the last several months, Animal Justice and our supporters have been contacting Loblaw Companies, asking them to keep their commitment. In response, Loblaw has pointed to their President's Choice egg brand, which is already cage-free, but has not shared further details on any plans to discontinue the sale of caged eggs from other brands.
Loblaw has also blocked comments on social media surrounding their cage-free egg promise from concerned customers, which is in sharp contrast to their values of "transparency, accountability and sound corporate governance" which is promoted on their website.
This shows that we are being heard, and we need to keep up the pressure. Planning protests like this one in Edmonton can make a big difference in accomplishing this goal. Join us in demanding that Loblaw keeps its commitment to go cage-free!