Summer is officially upon us. While many Canadians look forward to warmer and sunnier days, this time of year is especially deadly for farmed animals.
Most of us have seen trucks carrying farmed animals on highways, with silver or slotted orange exteriors, and large holes on the sides. For the vast majority of the cows, pigs, and chickens in these trucks, who were raised in windowless, cramped factory farms, this is one of their first glimpses of the outside world. It will also be their last.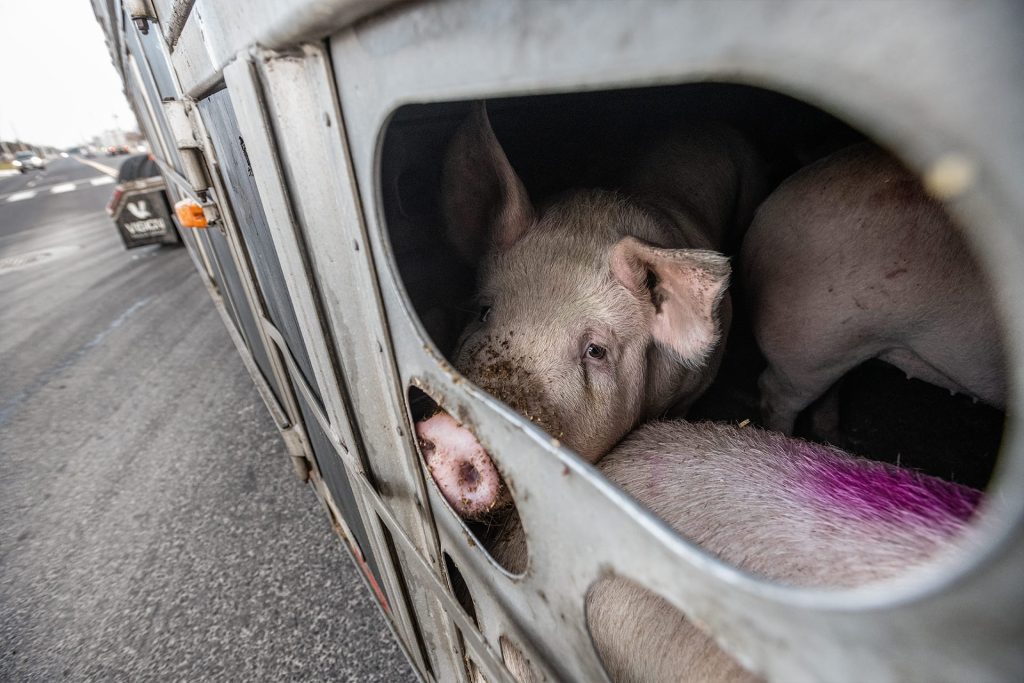 These animals are enduring an often agonizing and exhausting journey to the slaughterhouse. In Canada, farmed animals can legally be transported for up to 36 hours without food, water, or rest. For newborn chicks, this number jumps to a shocking 72 hours. Canada is known to have some of the worst transport laws in the western world, that allow for unimaginable suffering.
The trucks in which farmed animals are transported have no temperature control, and there are no maximum or minimum temperature limits for transporting animals. On scorching hot days, animals will often endure slow painful deaths from heat stress, and will literally freeze to death in the winter.
A shocking 1.59 million farmed animals arrive dead or dying at slaughterhouses annually in Canada, and no one is being held accountable.
In Canada, there are no federal laws governing the treatment of animals on farms. Federal laws do cover the transport of farmed animals, but these regulations are shamefully inadequate and barely enforced.
Animal Justice has worked extensively to overhaul Canada's deadly transport laws. In 2019, the Canadian Food Inspection Agency (CFIA) finally updated national transport regulations, but the changes were incredibly weak and still allow for cruelty and death on a massive scale.
Ag gag laws further conceal transport cruelty
For years, animal advocates in the Save Movement have been documenting dead, dying, and injured farmed animals in transport, and helped raise awareness of this everyday illegal cruelty through social media. Animal Justice has also filed numerous legal complaints with the CFIA over shocking footage obtained by the group.
A shocking 1.59 million farmed animals arrive dead or dying at slaughterhouses annually in Canada, and no one is being held accountable.
Click To Tweet
But instead of cracking down on this crisis, governments in Ontario, Alberta, and Manitoba have passed dangerous ag gag laws that make it almost impossible to document conditions in transport.
Animal Justice lawyers are fighting tirelessly to stop harmful ag gag laws. We're currently suing Ontario to overturn its unconstitutional ag gag law, and are mobilizing supporters to stop a federal ag gag bill that's currently in Parliament.
Please take action today to stop ag gag laws. We need more transparency in animal agriculture. Not less.
Banner image by Jo-Anne McArthur / Eyes On Animals / We Animals Media