A truck carrying chickens to slaughter has rolled over in Hamilton, Ontario, outside of a strip mall. Feathers were seen strewn all over the road and many chickens have died.
Local animal advocates, including Black Goat Farm Sanctuary, were at the scene of the crash to attempt to rescue survivors.
Animal Justice lawyers have contacted the CFIA and are asking for an urgent animal cruelty investigation. It's against federal, provincial, and criminal laws in Canada to cause animals to suffer during transport.
A member of Animal Justice staff was also at the scene, and saw terrified chickens packed back into crates with dead ones. A bystander has said that the truck took a corner too quickly, ended up on the wrong side of the street, and tipped over.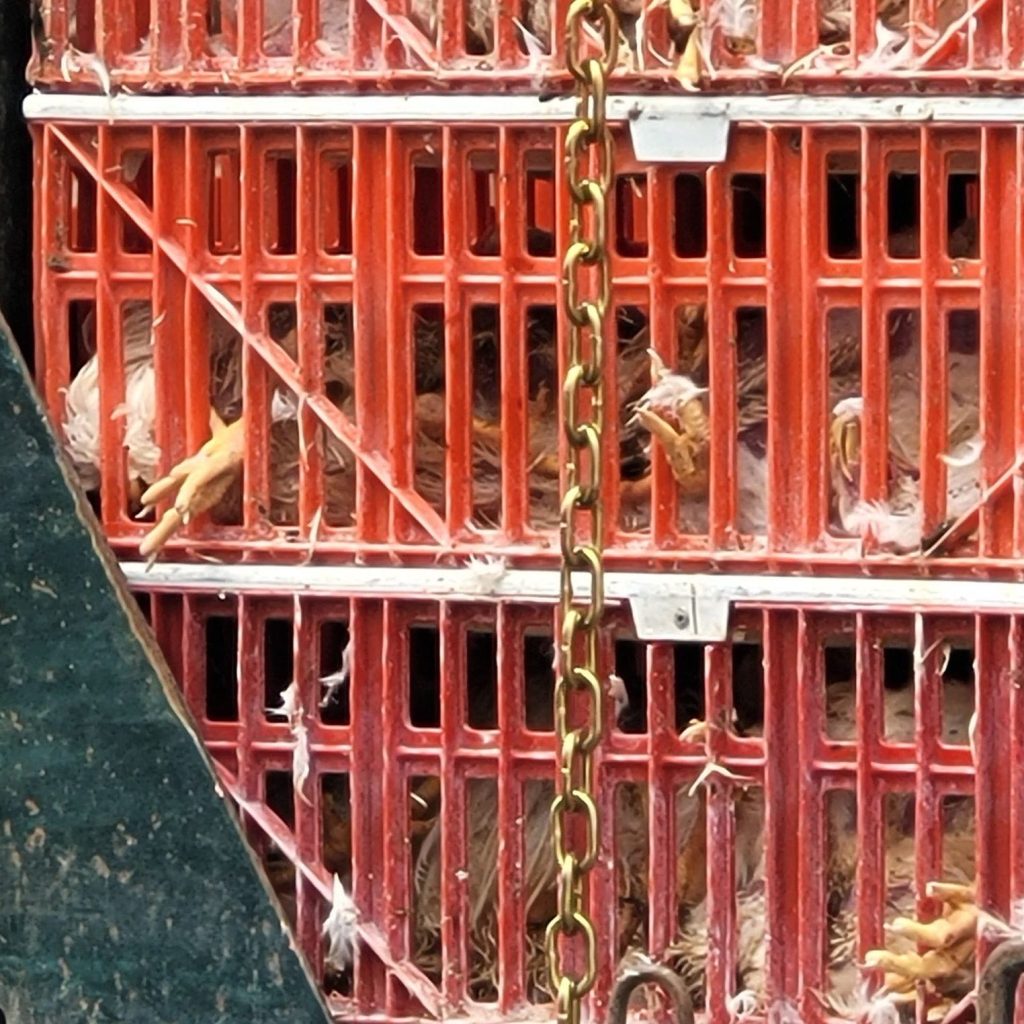 "Animal Justice is calling on the Canadian Food Inspection Agency to launch an urgent review of the safety of animals during transport in Canada," said lawyer Camille Labchuk, executive director of Animal Justice, in a statement. "Truck rollovers and other crashes are happening at an alarming rate, leaving thousands of animals to suffer and die. This situation is unacceptable. In addition to investigating this specific incident, the Agency urgently needs to take action to end these appalling crashes that result in mass carnage of innocent birds and other farmed animals."
This horrific incident is just one of many recent farmed animal truck accidents.
From chicken truck rollovers to escaped pigs and cows, animals are often injured and killed during transport. But no one seems to ever be properly held accountable.
Animal Justice staff lawyers frequently file legal complaints with authorities and demand prosecution for clear violations of the Criminal Code, provincial animal protection laws, and federal transport laws. But the Canadian Food Inspection Agency, police, and provincial authorities consistently fail to lay charges related to animal suffering.
Instead, the police often charge the drivers with careless driving—essentially, a traffic ticket. But there is no justice for the animals who experience appalling suffering during transportation, despite laws being on the books. Their pain and deaths have escaped the scrutiny of the legal system.
We hope to see authorities take appropriate and quick action regarding this recent crash.
---
Banner Chicken: Jo-Anne McArthur | We Animals Media