Winter's coming to Canada! Temperatures are plummeting, and many of us are scrambling to buy a new winter coat in preparation for the deep freeze that lies ahead. Tragically, some jacket and parka brands still use down fill for insulation, wool for fabric, and fur for decoration. For every animal-based parka purchased, an estimated 12 – 15 animals lose their lives.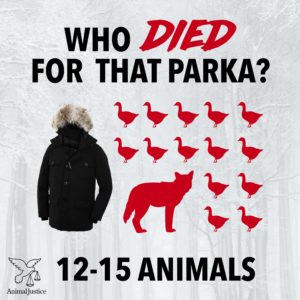 Animals killed and skinned for their fur suffer miserable deprivation on fur farms, and are ripped from their families in the wild by cruel traps and snares. Legal killing methods in Canada include gassing, electrocution, drowning, crush traps, strangulation, and head bashing.
Meanwhile, abuse runs rampant in the down industry, with recent undercover footage shot in Canada showing sensitive geese brutalized before having their throats slit open.
What's a compassionate consumer to do? If you're in the market for an animal-friendly winter coat, look no further than the Canadian companies in this handy guide.
Synthetic materials don't contribute to animal cruelty, but animal-free alternatives also outperform down and fur—on warmth, sustainability, and of course, animal welfare.
(Note: All of these brands are fur-free, but some use faux fur trim. Be careful—not everyone can tell your trim is faux. The best option may be to avoid the look altogether.)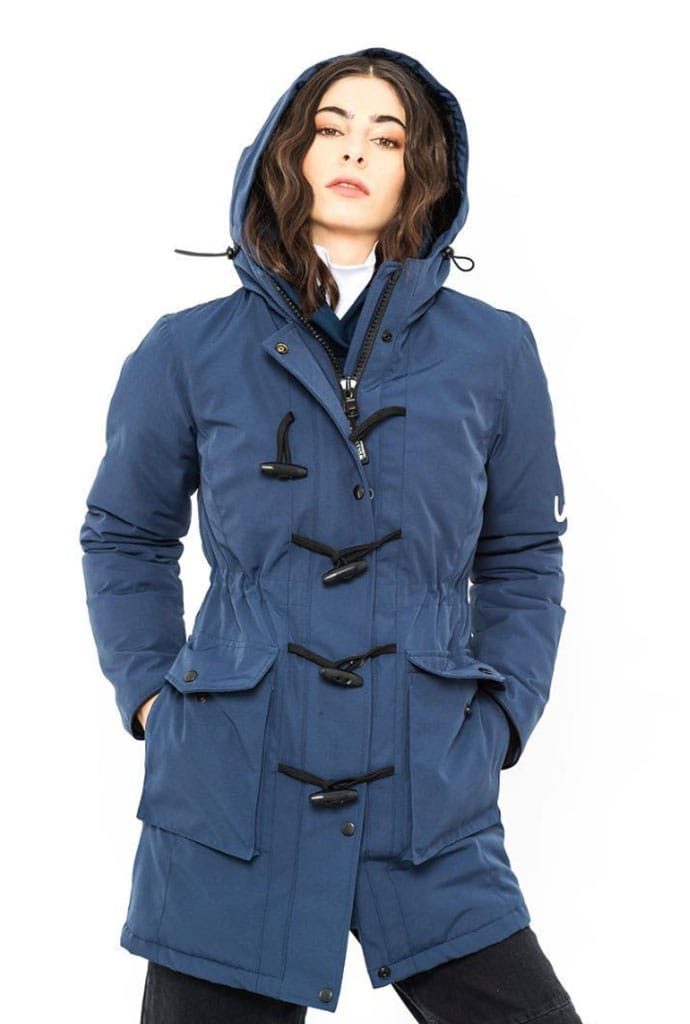 1. Wuxly Movement – Toronto
Wuxly Movement was founded by former CFL player James Yurichuk and his best friend, Anthony DeBartolo in 2012. Wully's stylish jackets are made in Toronto and are entirely animal-free. Thanks to PrimaLoft insulation, a military-grade technology which outperforms down, it's easy to feel invincible in the brisk Canadian weather. Bonus: The Animal Justice team has tried these parkas first-hand and believes they are a total game-changer!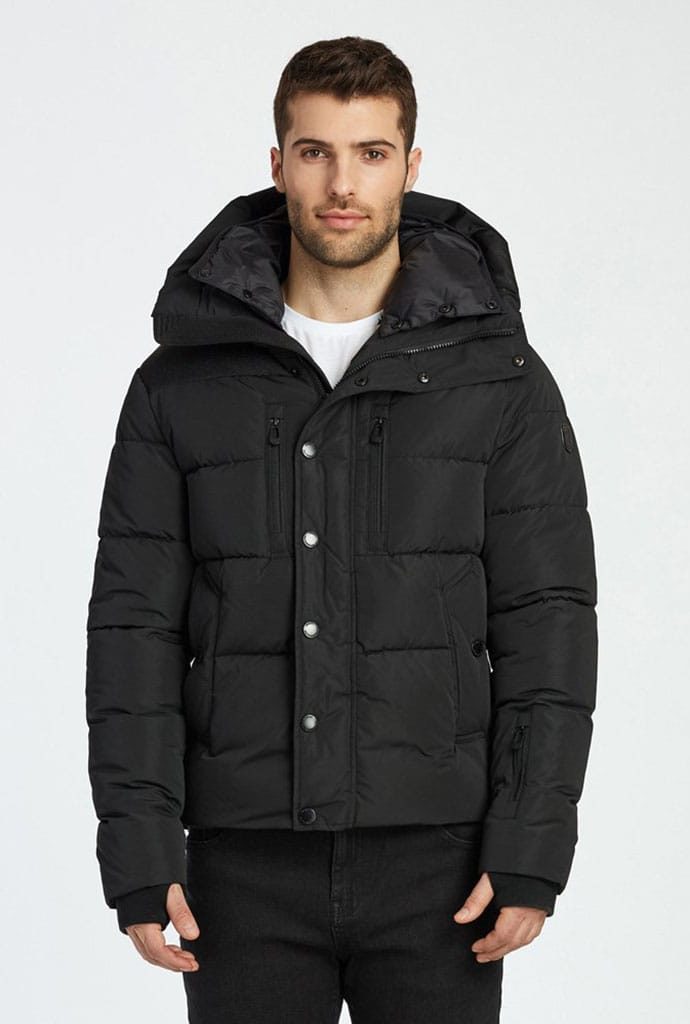 2. Noize – Montreal
Noize is a cruelty-free outerwear brand offering high-quality jackets. Their signature materials include 100% polyester, faux fur, and vegan leather.
Animal-friendly with a stylish focus. What's not to love?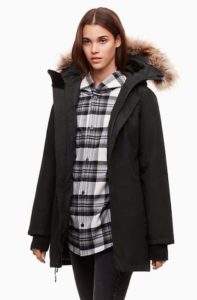 3. Aritzia – Vancouver
Known across Canada for bold and luxurious design, it's pleasantly surprisingly to see Aritzia emphasize cruelty-free outerwear options. Check out Aritzia's online store and use the 'vegan' search filter to easily navigate their animal-friendly options. Bonus: Aritzia also offers clothing made with vegan suede and leather!
4. Le Château – Montreal
Le Chateau is committed to fur-free fashion, and features sleek European styles. Their collection of puffer coats look especially cozy, and there are a variety of cruelty-free selections using synthetic materials like polyester and nylon.
5. Arc'teryx – Vancouver
This brand knows the outdoors. Arc'teryx was founded by climbers with a vision—to create apparel helping adventure-seekers explore nature in all weather conditions. Arc'teryz is completely fur-free, and has many down-free options as well.

6. Mountain Equipment Co-op – Vancouver
Athletically focused and durably made, MEC are experts in preparing people for the harsh weather. The brand is fur-free and has many down-free options. Some coats feature Hyperloft, which is a powerful, eco-synthetic insulation. Their styles with a practical purpose are a great option for combatting the cold.
7. Lolë – Montreal
Specializing in women's activewear with versatile and high-performance garments, Lolë features some trendy options to keep warm. All of the fur on their coats is faux, but those styles tend to use down. Steer in the direction of their clean cut looks which use Thermaglow as a synthetic insulator.
8. Frank & Oak – Montreal
Frank & Oak recently released several cruelty-free and eco-friendly jackets. These sturdy coats are made with 3M Thinsulate or Primaloft insulation. Both of these technologies outperform down—and that's something to squawk about!
Stay in touch by joining the Animal Justice mailing list!