Are Canadian grocers evolving when it comes to animal welfare? Or are they falling behind?
Canadian Grocer, an industry publication, is hosting their annual GroceryConnex event focused on the theme of "Evolving Retail". But, a closer look at Loblaw, the country's largest grocery retailer, raises crucial questions about why the company has made almost no progress on removing cruelty from their supply chain.
In 2016, Loblaws made a significant commitment—along with other related brands, such as Shoppers Drug Mart, Real Canadian Superstore, Independent Markets, T&T, and President's Choice. They pledged to stop selling eggs from hens confined in cages by the year 2025. Fast forward to 2023, and the question looms: What concrete steps have they taken in the past seven years to fulfill this commitment?
Let's examine Loblaw's journey year by year.
---
Loblaw's Timeline
2016
In the 2016 Environmental, Social, and Governance (ESG) Report, Loblaw highlights its commitment to "transition all shell eggs to cage-free by the end of 2025." The report also mentioned that President's Choice ("PC") and PC Organics shell eggs were already sourced from laying hens raised in free-run and free-range environments (which is a requirement under organic labeling rules). In free-run environments, hens should be free inside a barn, where they can perch, take small flights, and dust bathe. In free-range systems, they should also have outdoor access.

2017
The 2017 ESG report confirmed that Loblaw's target was in progress. Additionally, the company introduced a new product within their PC free-run egg line, further extending their cage-free offer.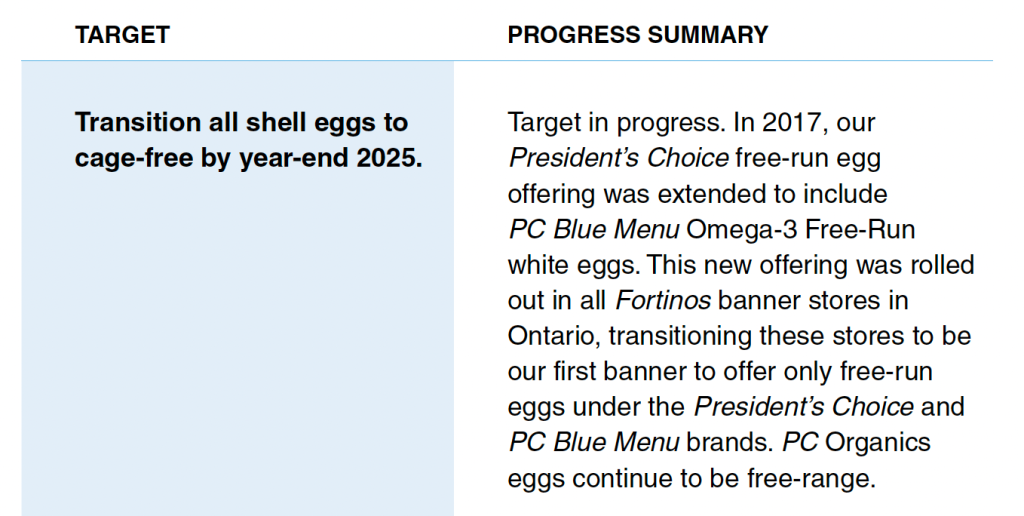 2018
In the 2018 ESG Report, there were no substantial updates, but the commitment was still in progress, and Loblaw had initiated plans to transition all PC eggs to cage-free.

2019
The 2019 ESG Report continued to reinforce that the target was in progress. At this point, all PC shell eggs had transitioned to cage-free. However, there was a lack of information about the total volume of eggs sold by Loblaw, and what percentage of these were PC eggs.

2020
The 2020 ESG Report was a significant setback. After four years of maintaining that the target of going 100% cage-free was in progress, Loblaw abruptly stated that they wouldn't meet the 2025 deadline. They attributed this delay to their egg producer partners, which they claimed were unable to meet the proposed timelines. This was despite numerous global examples where retailers had successfully collaborated with producers to meet their commitments, rather than abandoning them entirely. Loblaw pledged to report on their progress annually.

2021
The 2021 ESG Report offered even fewer insights into how Loblaw intended to stop selling eggs from hens confined in tiny cages. Although their previous report promised to share progress, the 2021 report merely stated, "we are increasing our cage-free eggs," and bringing the same information they had provided since 2019 about their PC shell eggs being cage-free.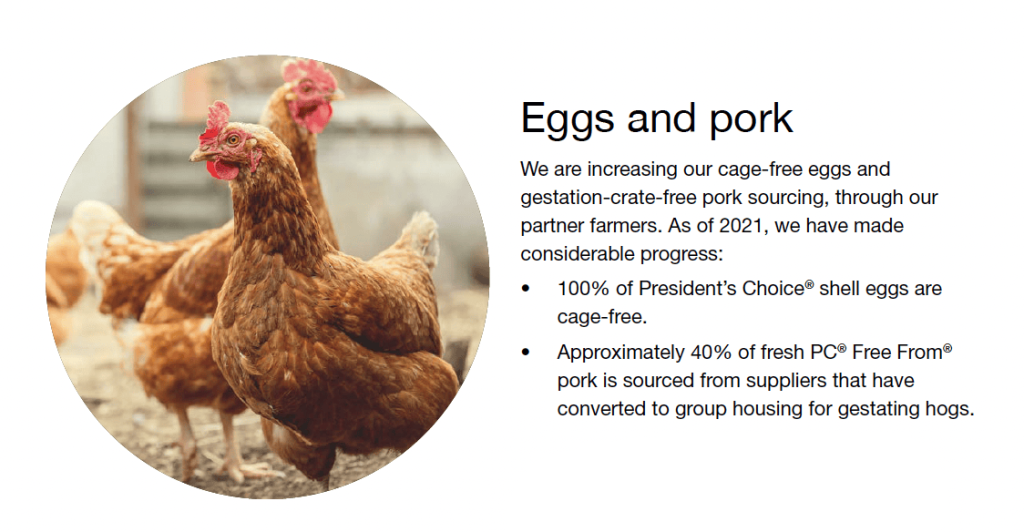 2022
Six years after announcing their intention to stop selling eggs from caged hens, the 2022 ESG Report from Loblaw failed to provide any new information about their path to achieving this goal. Curiously, the report featured the same image as the 2021 edition—a picture of cage-free birds, despite Loblaw continuing to source most of its eggs from hens confined in cramped cages.
Loblaws minimized its abandoned commitment to going cage-free, and instead emphasized that it would work through the National Farm Animal Care Council (NFACC), an industry-led body that creates exceptionally low, voluntary standards for egg production. NFACC standards allow egg-laying hens to be caged indefinitely, and only phase out some specific types of cages by 2036. This is not enough, and far too slow to meaningfully address urgent animal welfare concerns.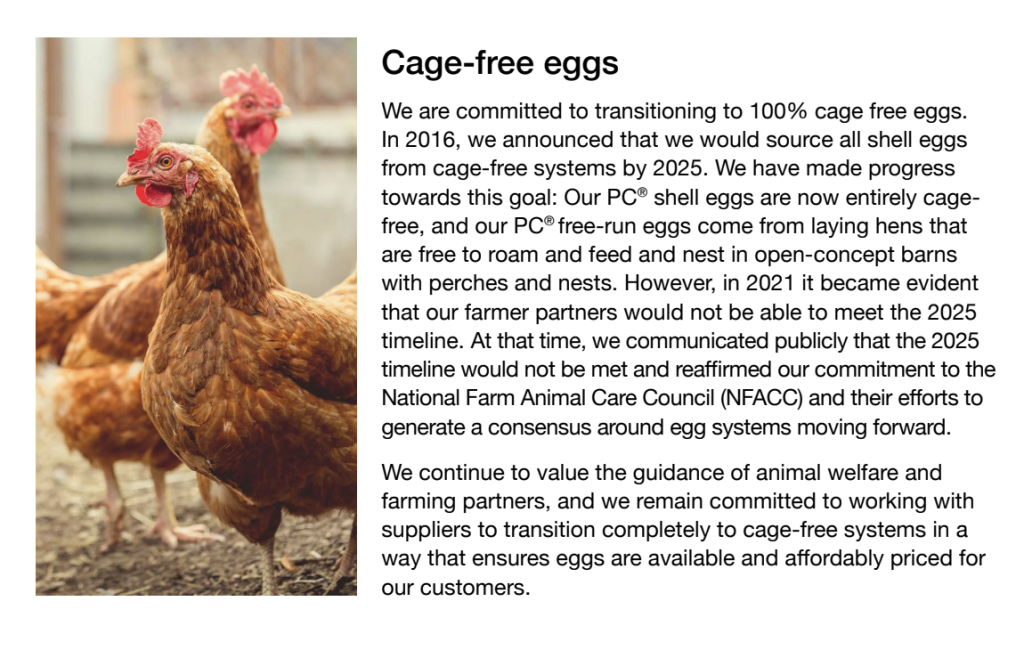 2023
In July 2023, Loblaw released an updated version of the 2022 ESG Report, focusing on transparency. They disclosed that in 2022, cage-free egg sales accounted for approximately 17% of shell egg sales. After seven years, Loblaw still lags significantly behind in achieving its cage-free goal. With just 17% of laying hens in Canada in cage-free systems, Loblaw's performance aligns with the national average. As the largest grocer, Loblaw has enormous market power. But it's evident that Loblaw isn't leading the charge in transitioning Canada to an entirely cage-free supply chain.
2023 New Update
In November 2023, Loblaw unveiled a new Animal Welfare Statement. While this statement largely reiterates the information from previous reports, it includes some new initiatives. Loblaw will begin annually disclosing cage-free egg sales for all their grocery retail stores, prioritize cage-free options for their e-commerce business, invest in marketing to promote cage-free eggs, ensure that all their locations offer cage-free choices (pending supply availability), and commit to transitioning to 100% cage-free eggs in their in-store prepared sandwiches and meals (also pending supply availability).
However, this update still lacks transparency about how Loblaw intends to enhance supply availability throughout their vast supply chain, despite their status as the country's largest retailer, or provide a concrete roadmap to go 100% cage-free.
---
How Loblaw Compares to Other Retailers in Canada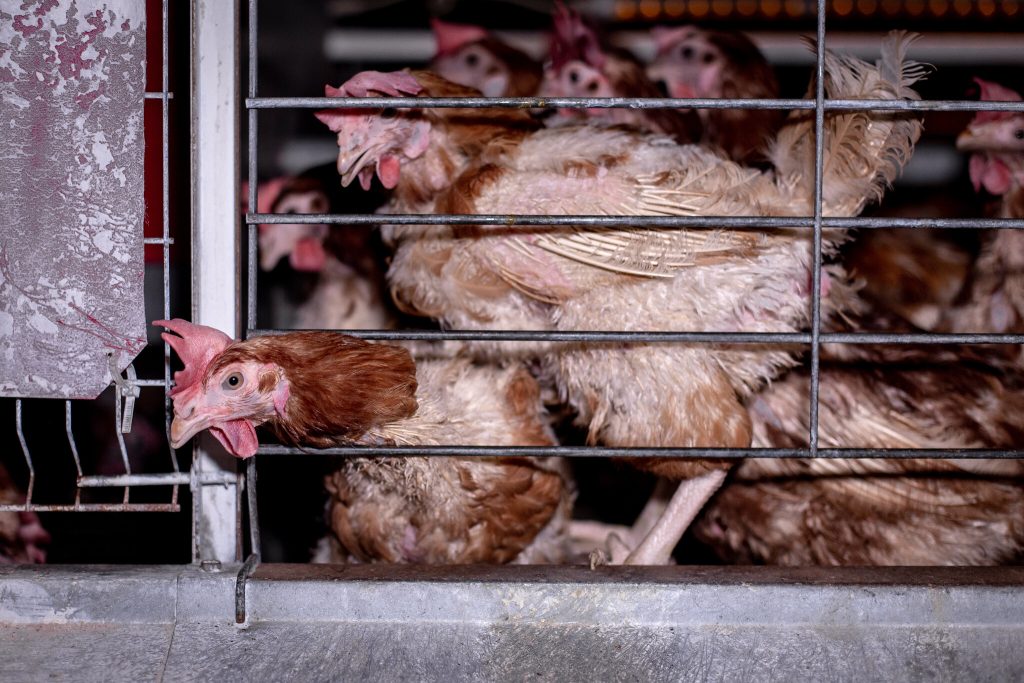 Save-On-Foods: 43% cage-free
Longos: 34% cage-free
Costco: 22.7% cage-free
Loblaw: 17% cage-free
---
Take Action
Loblaw has a new president and CEO, Per Bank, who previously oversaw the transition to cage-free eggs while leading Denmark's Salling Group of grocers.
The question is whether Per Bank will prioritize ending the sale of eggs from caged hens at Loblaw, or will he be content with offering lower standards for Canadians consumers.
You can make your voice heard! It's time for Loblaw to demonstrate a genuine commitment to animal welfare by turning their promises into tangible actions.
---
Banner Credit: Stefano Belacchi | Essere Animali | We Animals Media