Big Meat is heading to Egypt for COP27, as world leaders gather to assess progress in combating climate change.
Representatives from Canada's meat and dairy industries are out in force, and some are even part of the official Canadian delegation—which gives them special privileges and access to negotiators. The Canadian Cattle Association and Dairy Farmers of Canada are among the numerous animal agriculture lobby groups in attendance.
It's no secret that meat and dairy are an environmental disaster. An estimated 16.5%-28% of all global greenhouse gasses comes from animal agriculture. Animal agriculture is also a leading driver of global biodiversity loss. Meat and dairy consumption can't help meet climate goals, and the industry's influence on climate decisions can only be counter-productive.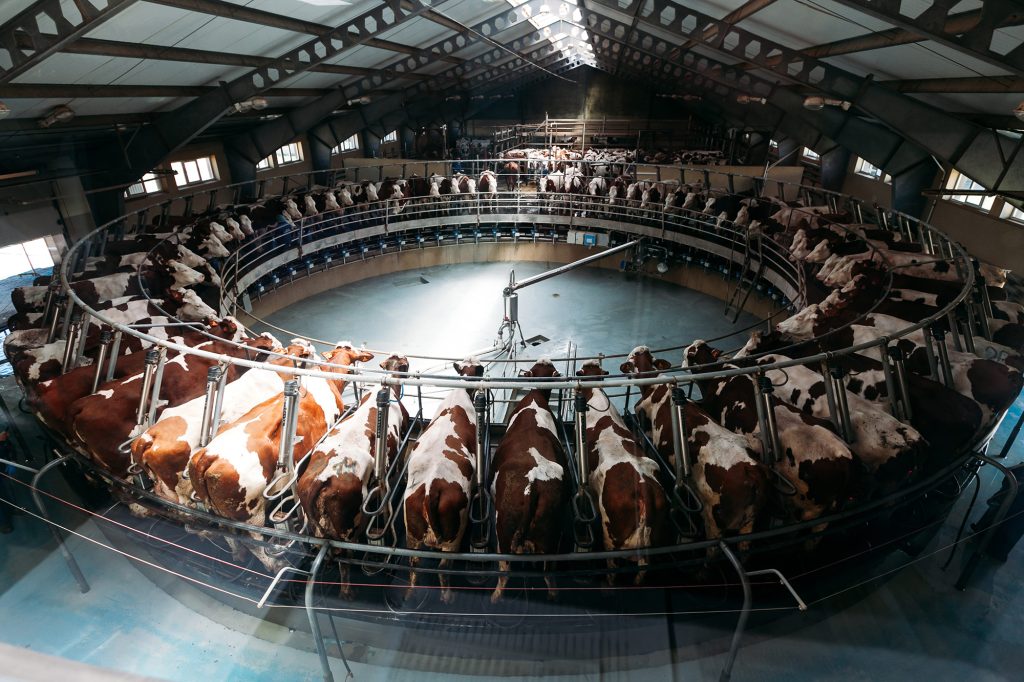 Animal Products in the Menu
Despite criticism at past events, COP is once again prominently featuring animal products on this year's menu, including a beef medallion dish, a seafood platter, and a salmon dish.
Including animal products on the menu is misguided, irresponsible, and is totally missing the mark.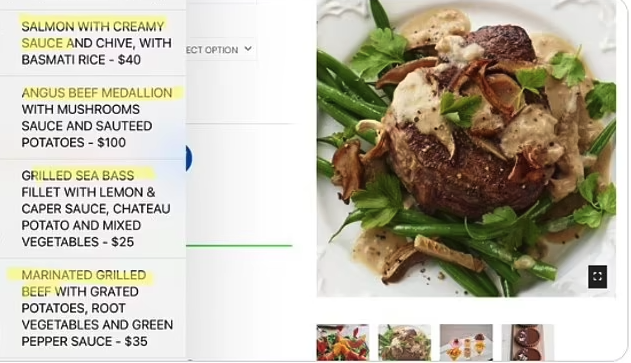 Meat Industry Greenwashing
In recent years, the meat and dairy industries have been pushing the message that their products can somehow be made sustainably. One of the ways the beef industry promotes this idea is through promoting so-called "regenerative" grazing—positioning cattle as part of a health ecosystem.
But the truth is that grazing still uses enormous amounts of land and energy, all for the production of very few calories of protein. Meat from regeneratively-grazed cows is still incredibly damaging to our climate.
Last year, McDonald's stopped running a billboard ad campaign falsely claiming its Quarter Pounder burger is sustainable, after an Animal Justice legal complaint prompted an investigation by federal regulators.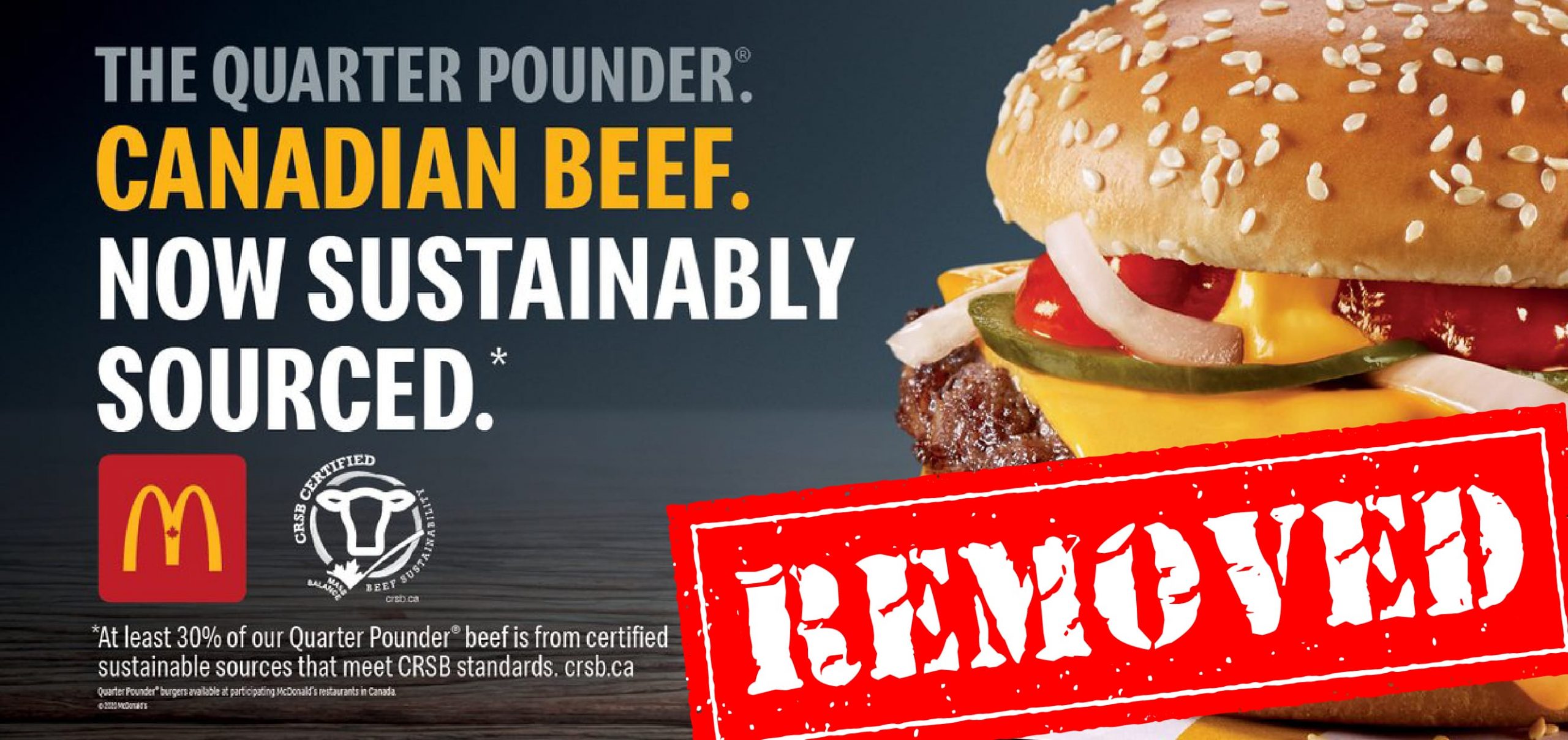 Climate Change & Natural Disasters
Climate change is contributing to more extreme weather events. These events not only affect people and wildlife, but they are often particularly threatening to farmed animals. In late 2021, the Fraser Valley in British Columbia faced catastrophic flooding. Over 640,000 farmed animals died in the floods, unable to escape their confinement.
Just months prior, in the summer of 2021, 651,000 chickens and other birds died on farms BC's deadly heat dome event.
There is no current limit on the number of animals that can be housed on farms in Canada, and there are no regulations setting out welfare standards for farmed animals, or requiring an evacuation plan during a disaster. This leaves animals uniquely vulnerable to being left behind to suffer during climate emergencies.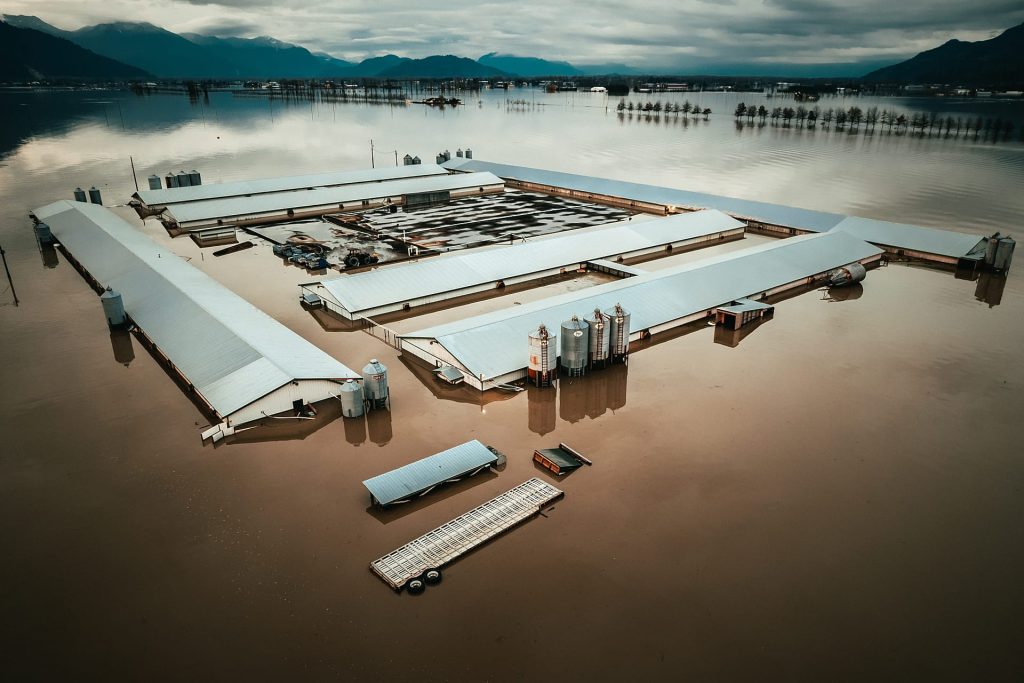 Not only do factory farms confine animals in appalling conditions, but farming animals for food is a major contributor to climate change. Animal Justice supports the transformation of our food system towards plant-based agriculture—which is humane, climate-friendly, and less vulnerable to the impacts of weather disasters. Please join us as we work to create a kinder future for animals and the planet.
---
Banner: Jo-Anne McArthur | Israel Against Live Shipments | We Animals Media