Mercy For Animals has released the latest edition of their Canada Animal Welfare Scorecard, a comprehensive report that assesses major food companies on their animal welfare initiatives—including retailers, food service providers, restaurants, and packaged product companies.
The report offers an essential snapshot of the progress being made in Canada concerning the treatment of animals within our borders. When we compare Canada to other nations, it becomes evident that while some countries are actively moving away from using cages in the egg industry, Canada has made minimal progress over the past four years and is falling far behind on animal welfare standards.
In the egg industry, hens are often confined in filthy, tiny wire cages without even enough space to spread their wings. These sensitive birds suffer from feather loss, broken bones, and are denied the ability to express their natural behaviours. Hens deserve more than a miserable life in a cage. It's time to end this practice!
Many Canadians would be shocked to learn how much we're lagging behind the United Kingdom, European Union, and the United States when it comes to getting hens out of cruel wire cages.
In 2022, 75% percent of the eggs produced in the UK were cage-free. In the EU, it was 60%, with 34% in the US. In Canada, just 17% of eggs were cage-free.
While the UK, EU, and US continue to make significant progress every year, Canada produced fewer cage-free eggs compared to the previous year.
The Canada Animal Welfare Scorecard classifies companies based on their commitments to cage-free eggs, crate-free pigs, and broiler chicken welfare, as well as their transparency in reporting progress toward these commitments.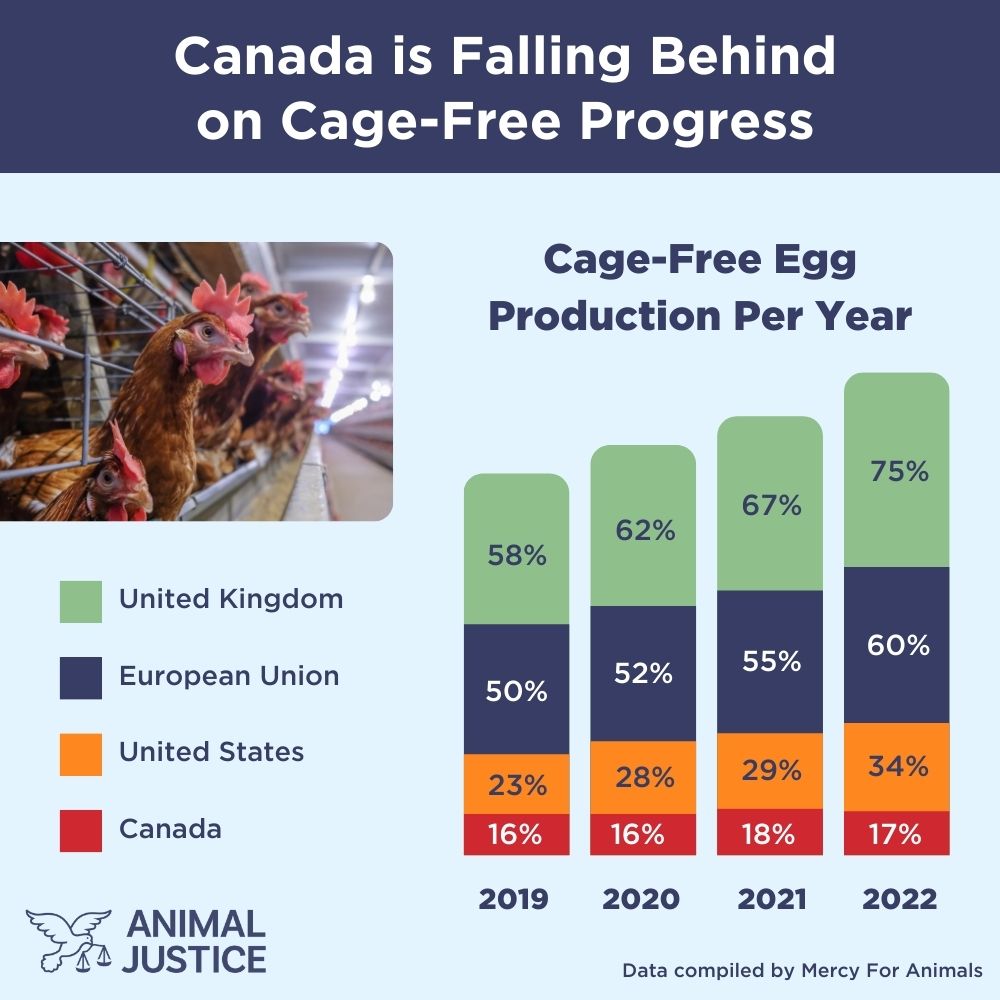 Tim Hortons & Second Cup Fail Hens in Cages
Among the high ranks of cage-free egg policies in the restaurant sector are Panago, Taco Bell, Swiss Chalet, and Chipotle, all of which have proudly declared themselves 100% cage-free.
On the contrary, Tim Hortons has extended its cage-free commitment deadline in Canada to 2030, adding an additional five years before discontinuing the use of eggs from hens kept in cramped cages. Tim Hortons attributes this delay to a slow transition in Canada, reporting that only 3% of its egg sales are cage-free for all of North America. Unfortunately, Tim Hortons also fails to demonstrate any proactive efforts to expedite this transition in its home country despite other brands achieving full cage-free status.
Another brand lagging behind is Second Cup. In contrast to Starbucks, which has nearly achieved a 100% cage-free status in Canada, Second Cup has inexplicably removed its cage-free commitment from its website, providing zero transparency to its customers. Second Cup is part of a restaurant group called Foodtastic, which also lacks any animal welfare commitments on its website.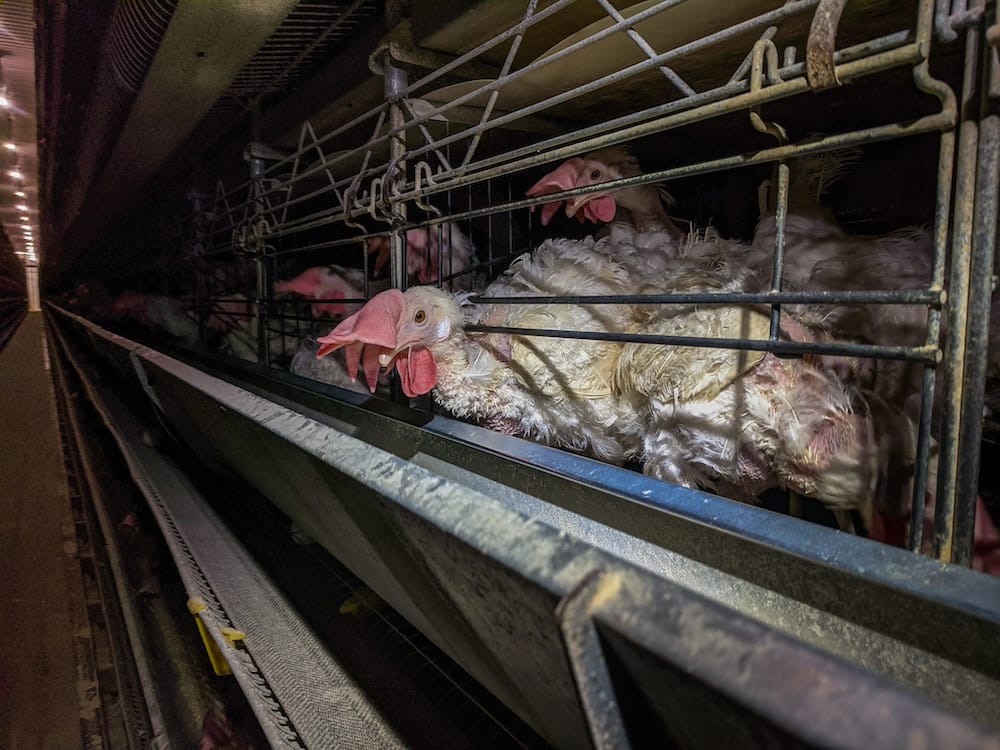 Loblaw & Other Retailers Disappoint on Cage-Free Progress
Whole Foods stands out as the sole retailer with a presence in Canada that has comprehensive policies covering all three categories under review and openly reports on their commitments.
In 2016, the Retail Council of Canada, which represents all the major grocery chains in the country, pledged to stop selling eggs from hens confined in cages. However, in 2021, these grocers collectively reversed their commitments and have since provided minimal information regarding the current status of their pledges.
Save-On-Foods leads the pack in progress, with over 43% of their total egg sales being cage-free, a significant achievement attributed to their in-store labelling, which has proven effective in helping customers make informed choices regarding egg products.
Sobeys and Longo's, part of Empire Limited, report 17% and 34%, respectively, as the percentage of cage-free eggs sold in their stores.
On the other end of the spectrum, retailers such as Walmart, Federated Co-op, Calgary Co-op, and Couche-Tard are ranked as the worst for either not reporting any information or lacking any animal welfare policies.
Costco reports 22.7% of cage-free egg sales, whereas Metro only discloses cage-free numbers for their own brands.
Loblaw, the largest retailer group in Canada, including brands such as Loblaws, No Name, President's Choice, No Frills, and Shoppers Drug Mart, has made partial commitments but currently only reports 17% of cage-free sales, which aligns closely with the industry average in Canada and reinforces that Loblaw is falling behind other large grocers on their animal welfare policies.
In 2016, Loblaw committed to going cage-free by 2025. But the retailer has since dropped the deadline and is refusing to share updates on the new timeline. Animal Justice and our supporters are currently pushing Loblaw to uphold its promise to protect hens and to end the use of cruel cages in their supply chain.