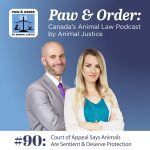 December 1, 2021
In Episode 90 of the Paw & Order podcast, hosts Camille Labchuk and Peter Sankoff discuss the groundbreaking Alberta Court of Appeal decision in R v Chen, in which Animal Justice was an intervenor. The appeal involves the appropriate approach to sentencing in criminal animal cruelty cases. The Court held that because animals are sentient beings that experience pain and suffering, crimes against them are crimes of violence and should be treated differently from property offences.
In this episode, Camille and Peter also announce that the Paw & Order podcast is wrapping up at the end of 2021, after four wonderful years. The hosts give a heartfelt thanks to the incredible listeners and everyone who came together to make the show possible, and reflect on some of the show's big accomplishments. We'll back with our final episode, and holiday special on December 14!
In the news, Camille and Peter discuss the tragic BC floods that killed over 100,000 animals trapped in factory farms, the Edmonton Police creating Canada's first animal cruelty unit, CFIA refusing to take enforcement action after footage showed a slaughterhouse worker hitting pigs, a new piece by Jessica Scott-Reid on the environmental impact of chicken production, and The Brooks Institute launching the Animal Law Fundamentals series.
The Hero of the episode is the UK for recognizing that cephalapods and decapods are sentient beings. The Zero is Manitoba for failing to tackle the stray dog crisis, which has led to a recent attack on a seven-year-old girl.
Thank you to our podcast sponsor, The Grinning Goat. Get 15% off your purchase of winter coats during the month of December by using the code PAWDECEMBER at grinninggoat.ca.
Twitter:
Facebook:
Instagram:
Special thanks:
To our producer, Shannon Nickerson, and podcast editor Micahl Contos.
To Kevin Lacroix for the podcast logo and for the musical sting in our podcast intro.
To DJ Quads for our intro, transition and outro music.