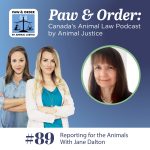 November 16, 2021
In episode 89 of the Paw & Order podcast, Jessica Scott-Reid interviews Jane Dalton, a UK journalist who writes about animal issues at the Independent. Jessica and Jane discuss how Jane was able work with a major publication and report on animal welfare, giving animals a much-needed voice in the media.
In the news, Camille Labchuk and Jessica discuss Animal Justice's new exposé revealing shocking animal abuse at an organic dairy farm in BC. Jessica wrote an op-ed in the Toronto Star that highlights some of the horrific acts that were captured on camera.
In this episode, Camille and Jessica also discuss Harvard Law School's Animal Law and Policy Program receiving a $10 million gift from The Brooks Institute, a Quebec zoo owner pleading guilty to animal cruelty, and Ontario loosening some pit bull restrictions but promising not to end breed specific legislation after an incident.
The Hero of the episode is British Columbia for promising to permanently phase out mink farms. The Zero is COP26 for serving meat and dairy, and completely dropping the ball on addressing animal agriculture as a leading cause of climate change.
Thank you to our podcast sponsor, The Grinning Goat. Get 15% off your purchase of vegan Truth Belts during the month of November by using the code PAWNOVEMBER at grinninggoat.ca.
Twitter:
Facebook:
Instagram:
Special thanks:
To our producer, Shannon Nickerson, and podcast editor Micahl Contos.
To Kevin Lacroix for the podcast logo and for the musical sting in our podcast intro.
To DJ Quads for our intro, transition and outro music.