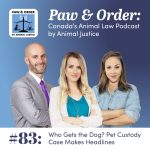 August 10, 2021
Episode 83 of the Paw & Order podcast feature ALL three hosts: Camille Labchuk, Peter Sankoff, and Jessica Scott-Reid—who are back from their summer break!
The show deep dives into an interesting dog custody case, Duboff v. Simpson, including some important comments made by the judge that could help influence future pet custody cases. The case involves two Toronto lawyers who fought for custody over a boxer named Layla. Under the law, pets are seen as merely property—making pet custody cases complex and often unpredictable.
In the news, our hosts discuss McDonald's removing misleading billboard ads claiming its Quarter Pounder is "sustainably sourced" after an Animal Justice complaint prompted an investigation by federal regulators, Animal Justice filing a cruelty complaint with authorities over Marineland's lone orca Kiska, a horse dying after suffering in a chuckwagon race crash in Red Deer, Alberta, BC placing a moratorium on new fur farms due to COVID-19 outbreaks, and African Lion Safari ending its cruel elephant rides.
The Hero of the episode is The U.S. 9th Circuit Court for ruling against pork producers and their challenge to Proposition 12, California's law that prohibits the caging of hens, mother pigs, and calves used for veal.
The Zero is Nestle for recalling its vegan drumsticks over concerns that they accidentally added cow's milk—boo!
Thank you to our sponsors The Grinning Goat, and Panela Lemon. Use code PAW15 to save 15% on your purchase at grinninggoat.ca and use code PAW10 to save 10% on your order at panelalemon.com.
As mentioned in the episode, here's the link to Jessica's Vermont Law School talk, "The Problematic State of Farmed Animal Protection in Canada"
Twitter:
Facebook:
Instagram:
Special thanks:
To our producer, Shannon Nickerson, and podcast editor Micahl Contos.
To Kevin Lacroix for the podcast logo and for the musical sting in our podcast intro.
To DJ Quads for our intro, transition and outro music.