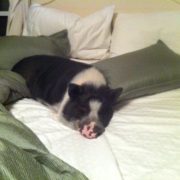 CALGARY — Animal Justice Canada Legislative Fund is considering launching a legal challenge in the case of Eli the potbellied pig, who lives as a family pet in Sherwood Park, Alberta. Animal Justice is Canada's only animal law-focused organization.
Strathcona County officials have ticketed Michelle Kropp, Eli's guardian, for allegedly violating a county by-law prohibiting residents from keeping "livestock." Although Ms. Kropp is appealing the $100 ticket, county officials have set a court date in February to seek an order removing Eli from his family. The county is refusing to wait for the ticket appeal to be heard before seeking the removal order.
"Potbellied pigs like Eli are kept as loving family pets in homes across this country," said lawyer Camille Labchuk, Director of Legal Advocacy for Animal Justice. "For Strathcona County to claim that Eli is 'livestock' is an absurd interpretation of the law, and to push ahead with a removal order to rip Eli from his family is nothing short of mean-spirited and unfair.
"Animal Justice is calling on Strathcona County lawmakers to clarify the bylaw and to drop the lawsuit for a removal order. In the meantime, the Animal Justice legal team is considering all options to launch a legal challenge to the bylaw on grounds that it is unconstitutionally vague and discriminatory."
Ironically, many dangerous exotic animals like large snakes can be kept legally in Strathcona County.
Other municipalities, including Strathmore, Alberta, have clarified their bylaws to confirm that potbellied pigs are acceptable pets. Provincial and federal agricultural agencies have consistently stated that potbellied pigs are not livestock.