In a blow to the cruel dog sledding industry, Windrift Adventures has lost an appeal before the Divisional Court in Ontario. The dog sledding business was applying for judicial review after Animal Welfare Services (AWS), the provincial animal law enforcement agency, seized over 200 dogs from the tourist attraction in Moonstone, Ontario after the facility failed to address compliance orders requiring them to provide adequate care and shelter to the animals.
In 2018, video footage from Windrift revealed dogs kept on short chains with inadequate housing. In February 2021, AWS conducted several inspections and issued compliance orders, including lengthening the tethers that restrained the dogs and remediating issues with poorly maintained doghouses. In September 2021, authorities conducted follow-up inspections of Windrift's properties to determine compliance with the compliance orders. They determined that Windrift was not in compliance and removed the dogs.
Windrift challenged the seizure at the Animal Care Review Board (ACRB). In this case, the court found that ACRB acted reasonably and that the dog sledding operation did not meet the standards required under the compliance orders.
The court also found that "it [was] obvious the dogs were in distress when they were seized, [and] obvious that they would have been returned to a situation of distress…" if returned to Windrift Adventures. The application for judicial review was dismissed, with costs awarded to the government, requiring Windrift to pay $37,500. Windrift may now also be on the hook for a further $505,760 to reimburse the government for the cost of caring for the seized dogs.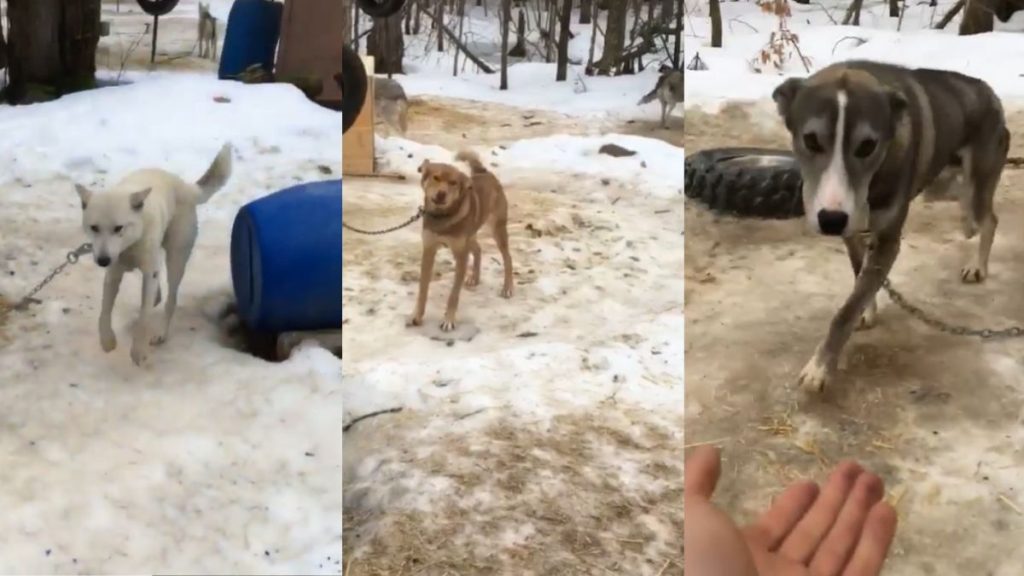 In most of Canada, the dog sledding industry is unregulated and unmonitored. It's common for sled dogs to be kept in poor conditions that are hidden from tourists and visitors. When dogs aren't pulling sleds, many of them spend the vast majority of their lives chained to makeshift doghouses made from shoddy barrels or crates that barely shelter them from the elements. Dogs are highly social pack animals, but in the dog sledding industry, dogs are denied the ability to play and socialize and are forced to live on short chains. Many tourists don't realize that when sled dogs aren't pulling sleighs, they are forced to eat, sleep and defecate all in the same small space, and endure extreme boredom and both mental and physical suffering.
Much of the public is unaware of the horrific cruelty in Canada's dog sledding industry, but a 2022 exposé by CTV's investigative affairs program W5, the Sled Dogs documentary, and high-profile news coverage of the dog sledding industry are helping push these issues into the mainstream.
Animal Justice has been advocating for stronger laws to protect sled dogs for years. Recently, as a part of Ontario's review of the standards of care for outdoor dogs, we called on the province to enact a ban on the use of sled dogs at commercial operations. We also rallied supporters to express their support for more robust protection of dogs in the province, including a ban on continuous tethering, stronger outdoor shelter requirements, and substantial weather protection requirements.
Please add your support by telling Ontario Premier Doug Ford and Solicitor General Michael Kerzner that dogs deserve better than a life of misery on the end of a chain!