The future of fashion is animal-free! In the fall of 2022, Canada saw its first large-scale vegan fashion function in the heart of Toronto's trendy Queen Street West neighbourhood, which served as a fundraiser for Animal Justice. The Vegan Fashion Show returns in fall 2023, with brands, media, and fashion lovers already lining up to participate. Here's a look at how the inaugural event went down last year.
The venue itself had a modern industrial aesthetic that paired well with the futuristic energy in the room, as drones captured models on the catwalk showcasing new cruelty-free alternatives to leather. Designers Diane Kroe, The Honest Whisper, AVE Bags, Kandy Intimates, and Eleanor Geraldine displayed a wide variety of kinder, more sustainable fashion from lingerie, accessories, loungewear, and high fashion items, proving that it is unnecessary to be exploiting animals for fashion! Even the makeup on the models was vegan and cruelty-free from the cosmetics sponsor, Emily Alexandra Cosmetics.
Throughout the evening, there was a variety of vegan vendors, raffle prizes, and live performances by Stephanie Braganza, Kirstin Corbett, and Angela Argentina. Educational speakers included Animal Justice's executive director, Camille Labchuk. During a backstage interview, she noted that "we're on the cusp of something really big. The fashion industry is really leading the charge on bringing on a cruelty-free future… whether it's designers dropping fur, amazing new products coming out on the marketplace… we're seeing massive change, and it's thanks to events like this that are spurring that change."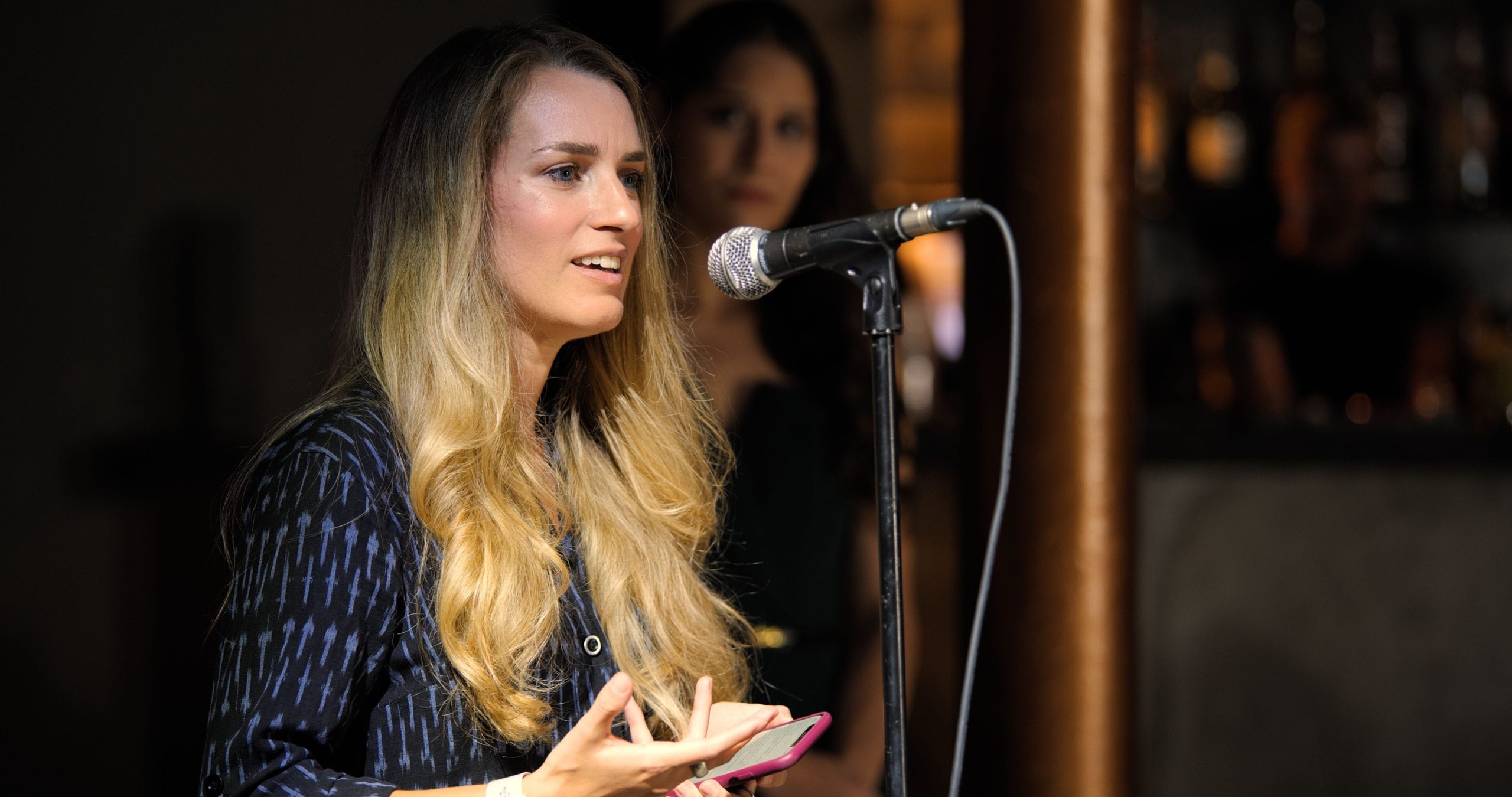 Going above and beyond modern fashion show events, The Vegan Fashion Show broke social norms by adding fun educational elements to go along with the animal-free collections showcased on the runway. As soon as guests entered the venue, there was a beautiful plant-based leather display where people could physically touch new innovative cruelty-free textiles, including plastic-free options. Teak leaf leather, Piñatex (made from pineapple leaf), corn leather, cactus leather, Berriestex (made from strawberry waste), coconut leather, materials from pears and chili peppers, Mirum, and Shorai are just some of the incredible next-gen sustainable alternatives to leather. Beside the textile display, there were eye-catching educational visuals by Collective Fashion Justice that explained the terrible truths on the water and land usage, animal exploitation, waste and pollution that all goes into producing a household fashion piece like a leather bag.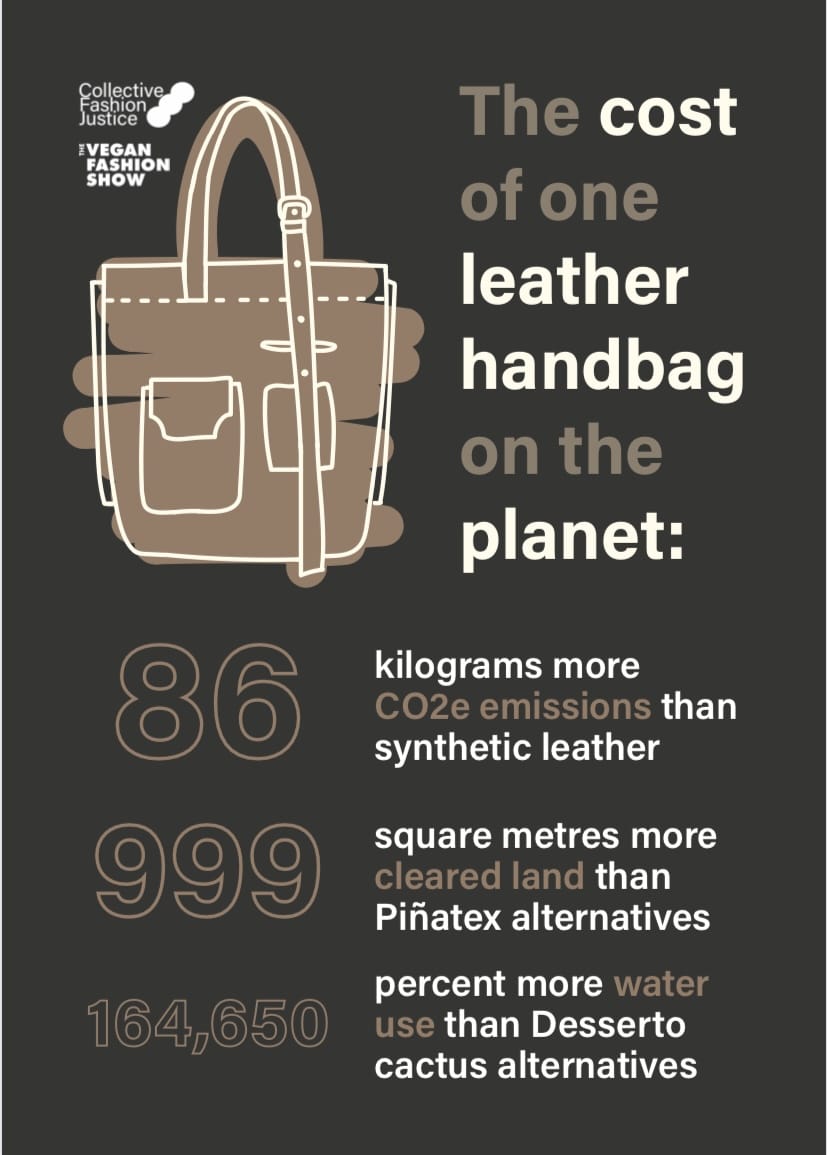 The Vegan Fashion show also offered a visual presentation on what the world would look like in a future with plant-based materials and showed the trailer to the new documentary called "SLAY", streaming now, that exposes the twisted realities within the fashion industry. To top it off, each guest took home an educational booklet on total ethics fashion by Collective Fashion Justice and some plant-based cheese sauce samples from Plantworthy.
Participants of the show included a diverse group of individuals who also learned from the event. The catwalk showed off diversity in local talent, including transgender Asian model Truong Ng (one of Toronto's best runway models), and 48-year-old Asian model Rachael song who went on to sign with a reputable American talent agency shortly after the show. These models and more spoke on what they learned from the model casting (an event on its own), which played educational videos about the cause as well as highlighting innovative materials as solutions. Indigenous mother and daughter team, Michelle and Kamrym Mackie, model coordinator and coach respectively, both spoke up on social media about how it's not necessary to harm animals for fashion, and how this doesn't have to take away from Indigenous culture. Stylist Priyanka Agarwal noted the connection that animal-free materials have with a more sustainable future, stating "cruelty is something we should do without in fashion. Sustainability is the future. The Vegan Fashion Show brought you the best concept you should take forward and for a better future. Non-vegan participants were also delighted to discover vegan food at the model casting and main event can be so delicious, thanks to food sponsor Panago Pizza, as well as the variety of snacks brought in from local grocers. There was a lot of vegan activism sprinkled throughout the process which was open to the public to learn more about the cause.
The Vegan Fashion Show was founded and produced by model and animal rights activist Vikki Lenola with the help of activist Laura Christine Warner who have dedicated years of their lives to promoting animal rights activism and note that plans for the next event are already underway! "We have lots of interest in this year's show already. Right now, we are still planning and considering new sponsors, a new venue, and adding professionals with different skills to join our core team. If you'd like to work with us to contribute to a more compassionate fashion industry, feel free to send us an email. For vegan fashion news and show updates like the model casting, and applications for designers, vendors, performers, media, and more, stay tuned to our social media", says Vikki Lenola.
With 100% of the proceeds being donated to Animal Justice, The Vegan Fashion Show was a roaring success for the animal activist and vegan community. Host and spokesmodel Angela Bell says, "This show created needed space for important conversations – about animal cruelty, sustainability, and alternative options. There is a desire for this, the event being sold out is a testament to that. People want to do better; they just need to know how." For anyone interested in learning more, follow @theveganfashionshow on Instagram and Facebook for updates or visit theveganfashionshow.org to access resources.
Photos: Alina Chen, Ming Siu, and David Fillion.