This week on the blog, we follow the rescue story of a 4-week-old, orphaned skunk. We learn about rules surrounding keeping wildlife in captivity and the Ministry of Natural Resources licensed wildlife rehabilitation facilities. 
On Sunday, my fiancée and I had the unique and heartwarming privilege of getting to know Petite Pepé Le Pew ("Pepé"). This 300 gram, baby skunk had been wandering the gardens and lawn for hours, curiously pawing at the dirt and mimicking the foraging behaviour he must have learned from his mom. After searching the area, we could not find any sign of his mother or siblings and when he attracted the attention of a hawk, we decided it was time to get him to safety.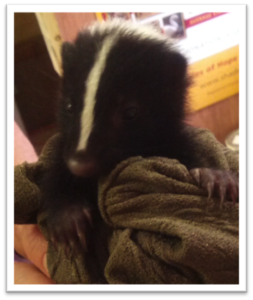 This was our first encounter with a skunk and we can attest that even at 4 weeks of age, this feisty orphan knew how to use protective defence! Skunks generally have poor eyesight and Pepé, being so young, had just recently opened his eyes. As I came up behind Pepé with a towel to drape over him, his gaze was focused on my fiancée, who was between him and the garden. As he stomped his front paws and raised his tail – trying his best to appear intimidating – I gathered him in a towel and placed him in the cat carrier.
For anyone who has happened across an orphaned or injured animal, you're probably familiar with the relief of "yes, we have him!" followed by the more concerning question of "what now?" Of course, this was now Sunday evening and after hours, so we set about researching how to care for a baby skunk and where the nearest wildlife rehabilitation centre was located.
Step 1: Caring for wildlife in captivity
In Ontario, it is not permissible to keep a wild animal in captivity as a pet. Wild animals are best left in their natural environment and also, it helps to prevent the spread of disease. While Pepé was found to be in great health upon arriving at a wildlife rehabilitation centre, they can be carriers of rabies, distemper and mange.
The Ministry of Natural Resources lists 90 authorized wildlife rehabilitators in Ontario. However, the majority of them are not government funded and are charitable organizations, relying solely on donations and committed volunteers. Wildlife rehabilitation organizations provide an essential and valuable service which I'm sure, anyone can attest to if you've been in a similar wildlife emergency situation.
The Toronto Wildlife Centre had closed by the time we rescued Pepé, however, we were fortunate enough to find a 24-hour helpline for skunk care based in Ohio. Wild animals, especially baby animals, require very special care and feed and without advice, we did not want to risk his health. Deb from Skunk Haven advised us to feed Pepé goat's milk and a well cooked, scrambled egg. She warned us that baby skunks were prone to seizures so we must stabilize his blood sugar levels with frequent feedings. We were told he must stay warm as well since he was without the warmth and comfort of his mother and siblings in a den.
With a crash course in the basics of baby skunk care completed, we spoon-fed Pepé egg and goat's milk – which he ravenously gummed – and he soon snuggled up with his rice-filled-socks (microwaved for a couple of minutes) to get some much needed rest.
Step 2: Locating a wildlife rehabilitation centre
It took 24 hours for us to find and locate a wildlife facility that had availability for a baby skunk. For a while, we were left with a sinking feeling that we wouldn't be able to find a no-kill shelter for Pepé which would provide him with proper, experienced care. While Pepé was energetically eating when we first captured him, by Monday morning he was much more subdued and eating less. Luckily, our numerous phone calls and persistence paid off and Shades of Hope, a wildlife refuge about an hour away from us, were happy to assist and care for Pepé.
Shades of Hope Wildlife Refuge is located in Peferlaw, Ontario. They are a registered charity and they nurture, treat and rehabilitate injured and orphaned wildlife. While they are not open to visitors, I was able to glimpse the 'behind the scenes of wildlife rescue' while delivering Pepé. Upon arrival, a formerly injured and now permanent resident female turkey greets you, as do a pair of crows who were hand reared and now 'released.' The property is a mixture of forest and meadow, with many spacious outdoor pens, wildlife playrooms and fenced in areas.
Knowing that Pepé would be cared for and raised alongside other orphaned skunks, until he is old enough to be released, was a profound weight off my shoulders! For anyone who has found themselves in a similar wildlife rescue situation, it can be very worrisome when you feel ill-equipped to properly care for an orphaned animal and furthermore, have difficulty finding a wildlife facility with a no-kill policy and space to take on another wild animal.
Luckily, this story has a happy ending and Pepé will have all the time he needs to grow and develop as a skunk should! I send a huge, heartfelt thanks to the dedicated staff and volunteers of Shades of Hope Wildlife Refuge. Also, my apologies for the lasting aroma left in your reception area! 
Written by Kerrie Lowitt – MSc, BES, JD Candidate – Summer Student for Animal Justice Canada 
This blog and the contents herein are for informational purposes only and do not constitute legal advice. Readers are advised to seek legal counsel prior to acting on any matters discussed herein. The opinions expressed are those of the author.