Secretly-recorded footage from the Papanack Zoo, a roadside zoo outside Ottawa, reveals shocking conditions for animals, including:
a zoo manager describing how he trained a baby lion cub by repeatedly beating the baby animal in the face;
a baby cougar and fox stolen away from their mothers and used as selfie props for zoo visitors;
a raccoon, skunk, and bobcat prodded and having their mouths forced open with cords in a photoshoot for the reality TV show Billy Goes North;
animals performing stereotypic behaviour (which is often a sign of psychological distress), including a spider monkey, baby coyote, and several large cats;
zoo management stating that several Père David deers (extinct in the wild) broke their necks and died after being chased by dogs and running into a fence.
Photos from Instagram of visitors posing with animals at Papanack Zoo
Animal Justice has filed a legal complaint.
Papanack Zoo sparked public outrage last year when the owners gunned down a Lion named Zeus after he escaped from his cage.
Ontario has become the roadside zoo capital of Canada, due to weak laws and inadequate enforcement. Ontario is the only province in the country where there is no license or permit required to open a zoo full of wild, exotic animals. As a result, the provincial government is powerless to shut down a zoo—not matter how bad the conditions may be. Even a hairstylist needs a license to operate in the province of Ontario, yet the government is leaving vulnerable animals out in the cold by failing to license and regulate zoos.
Take action now! Ask Ontario Premier Kathleen Wynne and Community Safety Minister Marie-France Lalonde to protect animals from zoo cruelty.
Please share this campaign widely on social media using the hashtag #PapanackZooCruelty.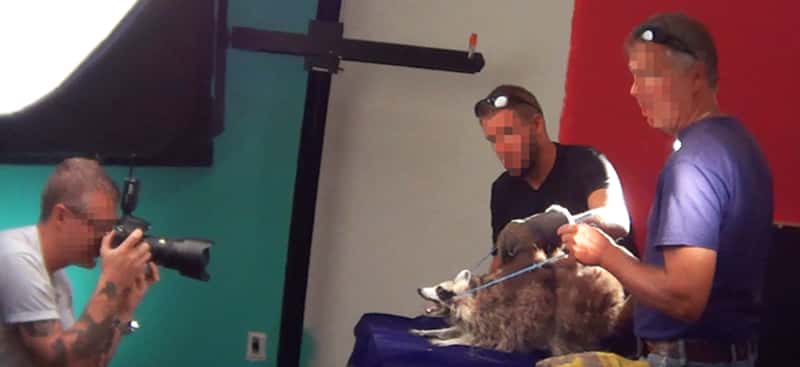 A raccoon is restrained and has his mouth pried open with a cord during a photoshoot for the reality TV show Billy Goes North.

A promo banner for Billy Goes North.