Federal authorities are cracking down on Big Meat company Maple Leaf Foods after it was discovered that the company was falsely advertising hot dogs as a "healthy protein" on their website.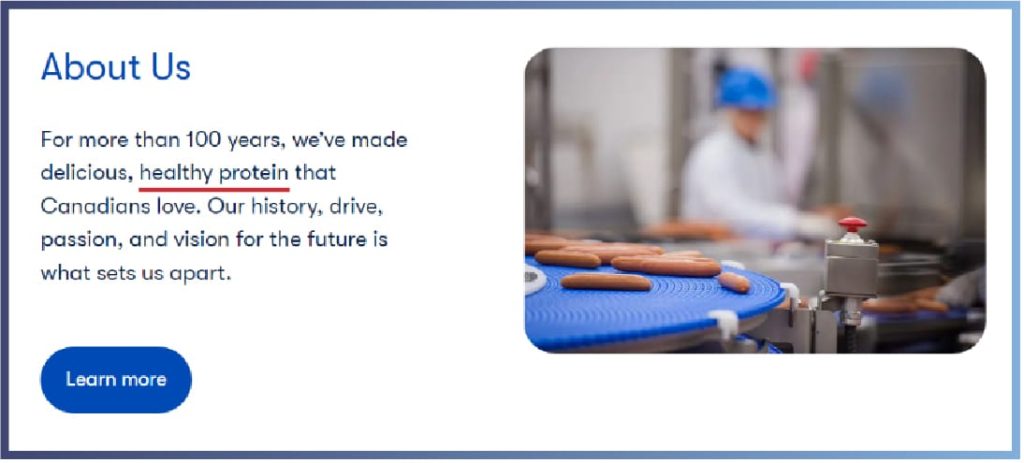 The Canadian Food Inspection Agency (CFIA) was alerted to the misleading advertising thanks to a complaint filed by Animal Justice Academy member Debbie Wall. After consistent follow-up, the CFIA confirmed to Ms. Wall that the use of the term "healthy" appearing next to pictures of wieners and pre-packaged hot dogs could be considered misleading. Maple Leaf Foods was forced to remove the misleading claims from the company website.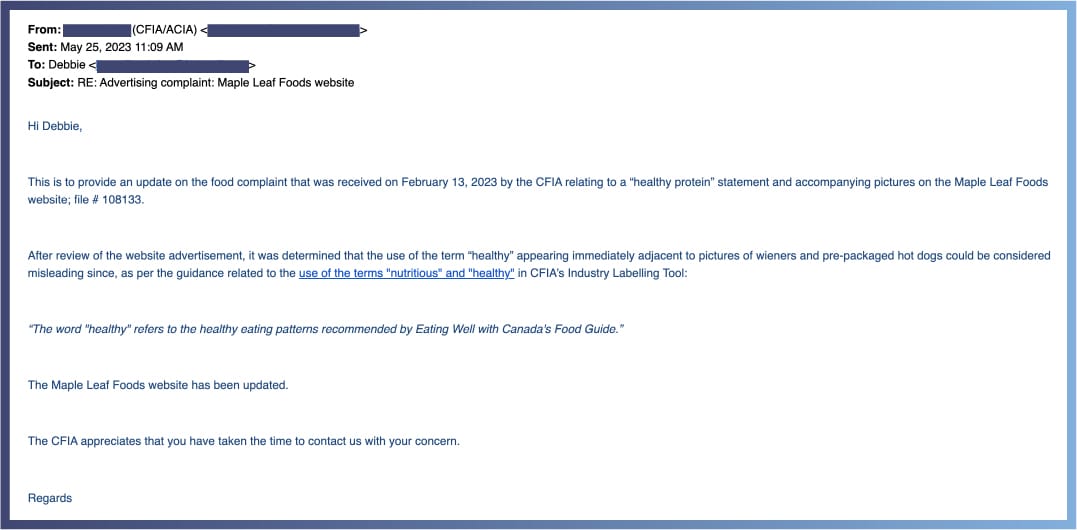 According to CFIA guidelines, the word "healthy" refers to the healthy eating patterns recommended by Canada's Food Guide, and describing food as "healthy" when it doesn't meet the Food Guide recommendations can be considered misleading. The Canada Food Guide encourages people to eat more plant-based protein, and discourages people from consuming processed meat like hot dogs and sausages.
The World Health Organization's International Agency for Research on Cancer has also linked processed meats, including hot dogs, sausages, ham, corned beef, and beef jerky, to an increased risk of colorectal cancer. Incorporating more plant-based foods, such as vegetables, fruit, whole grains, and plant-based proteins can have positive effects on one's health.
Complaints Successfully Take False Ads Down
Animal Justice regularly files false advertising complaints against corporations that mislead consumers about health or animal welfare. This is the second time in the past year that a meat company has made misleading health claims about pig meat.
In 2022, federal authorities took enforcement action against Manitoba Pork over misleading radio ads that falsely claimed pork is healthy.
In 2021, an Animal Justice complaint prompted a federal investigation, which led to McDonald's removing billboards that falsely claimed their Quarter Pounder burger was "sustainably sourced"—even though the beef industry is a major cause of climate change.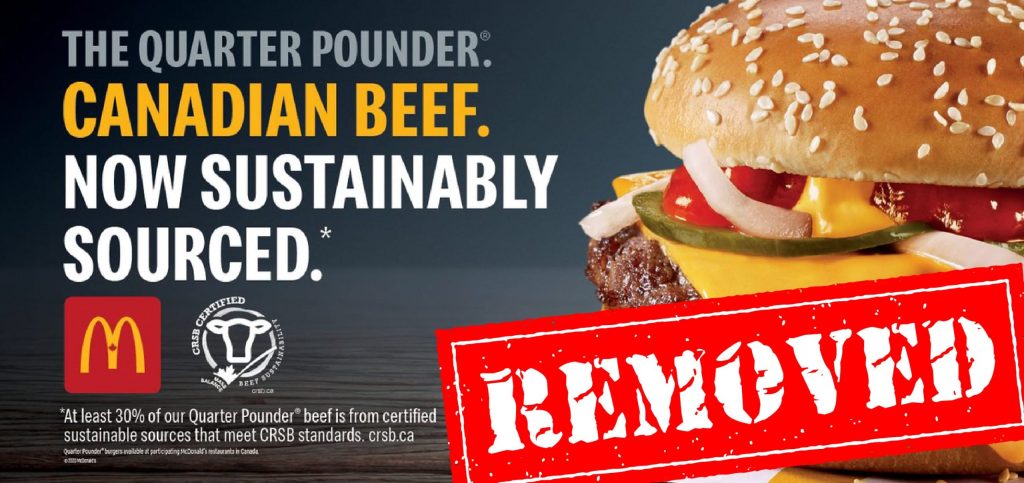 In 2019, Animal Justice helped get a misleading transit ad campaign taken down, paid for by the Dairy Farmers of Canada, by assisting concerned citizens in filing complaints with Ad Standards Canada. The advertisement falsely claimed there are zero growth hormones in milk produced in Canada.
Animal Justice applauds Ms. Wall for her strong and consistent advocacy. It is crucial to have dedicated individuals speak up when brands try to dupe consumers into buying products that are harmful for animal welfare, our health, and the planet.
To learn more about how you can best advocate for animals, including by filing complaints with authorities, consider joining the Animal Justice Academy—a free online training course offered by Animal Justice.