The federal government is developing Canada first-ever food policy! A national food policy would address the entire food cycle—from the moment seeds are planted, until the food is prepared and eaten. The policy will set a long-term vision for the health, environmental, social, and economic goals related to food, while identifying actions Canada can take in the short-term. The government's stated goals are to:
increase access to affordable food;
improve health and food safety
conserve our soil, water and air; and
grow more high-quality food.
The government wants to hear from you before July 27, 2017! This is an incredible opportunity to speak up against unsustainable animal agriculture, encourage the growth of healthful plant crops, and push for improved access to plant-based foods.
Have your say! Visit the consultation website to take the survey. Here are some key points that you may wish to include:
Are there any objectives missing?
There are major current and emerging market opportunities in plant-based and cultured meat, dairy, and eggs. Plant-based replacements for these animal foods are more environmentally sustainable, better for personal health, better for public health (less food-borne illness, pandemic risk, and antibiotic resistance), and better for the animals, who endure intensive confinement conditions under the current system.
Conserving soil, water, and air
Research from internationally respected think tank Chatham House has found that reducing global meat consumption is essential if we are to keep global warming below the "danger level" of two degrees Celsius. Moreover, the public believes it is the responsibility of government to spearhead efforts to address unsustainable consumption of meat.
Affordable food
Plant-based sources of protein are significantly cheaper than animal flesh. At a Canadian grocery store recently, extra lean ground beef was more than five times more expensive than tofu, chickpeas, or red lentils.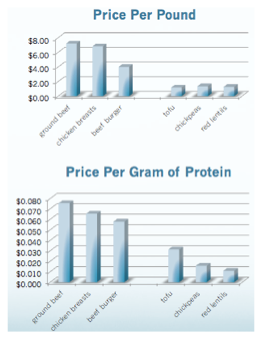 The government should develop policies to encourage consumption of healthful, sustainable, and affordable pulses (i.e., beans, lentils, peas, and chickpeas). The government should also ensure healthful fruits and vegetables are affordable and accessible to all, and focus on increasing their consumption.
Improving health and food safety
In 2016, Canadians consumed per capita 95.06 kg (209.57 lbs) of animal flesh and 19.93 dozen eggs—far exceeding global averages. Health Canada recommends Canadians eat more vegetables, fruit, whole grains and protein-rich foods, with a focus on plant-based sources of protein. When it comes to food safety, animal farming contributes to antibiotic resistance, food-borne illness, and pandemics.
For our full comments, please see: Animal Justice's Food Policy for Canada Submission.
Stay in touch by joining the Animal Justice mailing list!
Join the Animal Justice Mailing List