Compassion won the day in Oshawa, Ontario this week after police prosecutors finally withdrew a disciplinary charge against an officer who helped a kitten in distress. Shockingly, police officer Beth Richardson was being prosecuted by the police for a simple act of kindness—rescuing a kitten named Tia, whom she found cowering under a chair at the home of a meth user.
According to the notice of hearing, officer Richardson had been dispatched to a home where a woman had been using crystal meth for several days. She saw Tia hiding underneath a chair, believed the kitten was at risk and not being properly cared for, took Tia to a veterinarian, but was forced to return her to the home later when the meth user's boyfriend called to complain.
When news of the prosecution hit the media, the public was shocked that a police officer could get in trouble for protecting an animal. That's when Animal Justice stepped up to help officer Richardson fight the charge. Lawyers for Animal Justice filed a motion to intervene in the case at a hearing last December to explain why the legal system should be used to help animals, not punish compassionate people who try to protect them. As a cat, we argued that Tia must not be treated like a piece of property but as a living being with needs of her own.
Animals won a huge victory at that hearing when Animal Justice successfully convinced police prosecutors that rescuing an animal is an honourable action—not discreditable conduct. The police also acknowledged that their duty to preserve life includes animal life as well as human beings. Yet they refused to halt the prosecution, claiming officer Richardson did not properly document her actions in rescuing Tia.
On Tuesday, May 9 the police finally withdrew the charge against officer Richardson. According to a joint statement, the police now acknowledge that the officer was "genuinely concerned about the welfare of an animal in distress", and she has agreed to continue to "promote animal welfare in the community."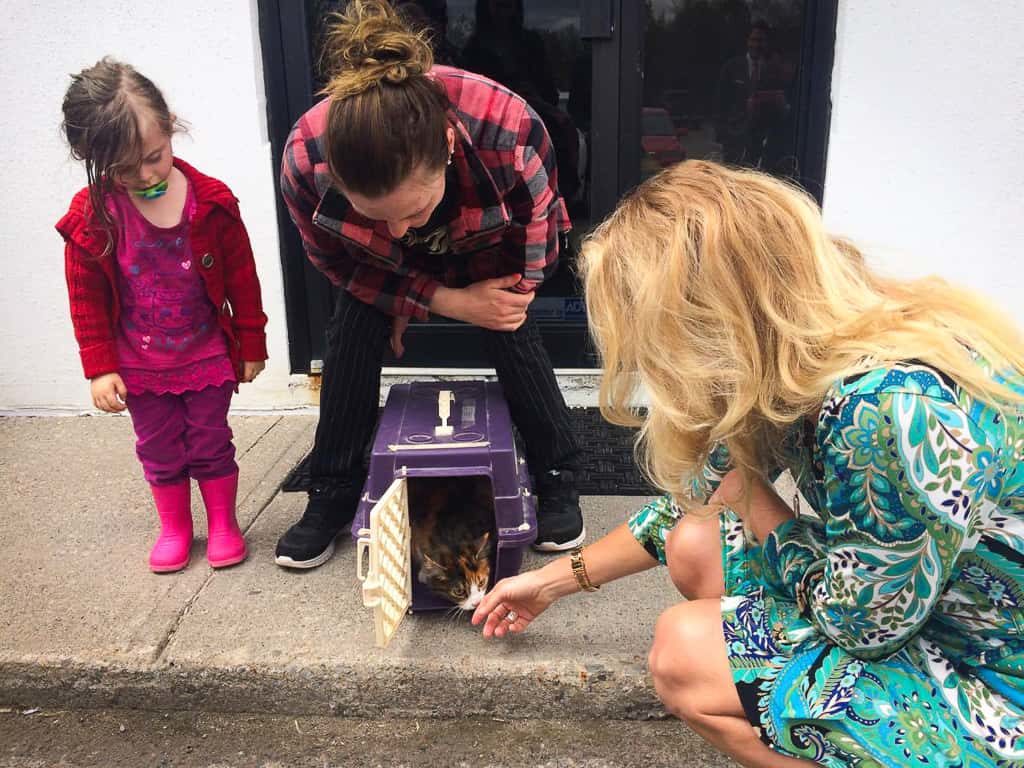 The best part? Tia has since been adopted into another home, and her new family brought her over for a joyful reunion with officer Richardson after the charge was dropped.
Animal Justice thanks officer Richardson for the love and compassion she showed to Tia, a vulnerable animal in need. Her actions are a model for all law enforcement officers. Compassion wins!
Photos courtesy of Mary-Chris Staples.