On June 30th, 2023, residents of Dundas, Ontario witnessed a shocking incident of animal abuse. In a now-viral video, a man was documented dragging a dog by their neck along the pavement and whipping the dog with their leash. The individual was also seen screaming at the dog as well as threatening concerned bystanders who filmed the incident.
Upon being made aware of the incident, Animal Justice promptly contacted Provincial Animal Welfare Services (PAWS) and the Hamilton Police Service alleging violations of the Provincial Animal Welfare Services Act and the Criminal Code which prohibit causing distress and/or unnecessary pain, suffering, or injury to animals.
Following Animal Justice's complaints, on July 8, 2023, Hamilton Police assisted animal welfare inspectors from PAWS in executing a residential search warrant. The investigators were able to locate the dog in the video and remove them without incident. Police report that the dog is currently in the care of Animal Welfare Services while the investigation remains ongoing.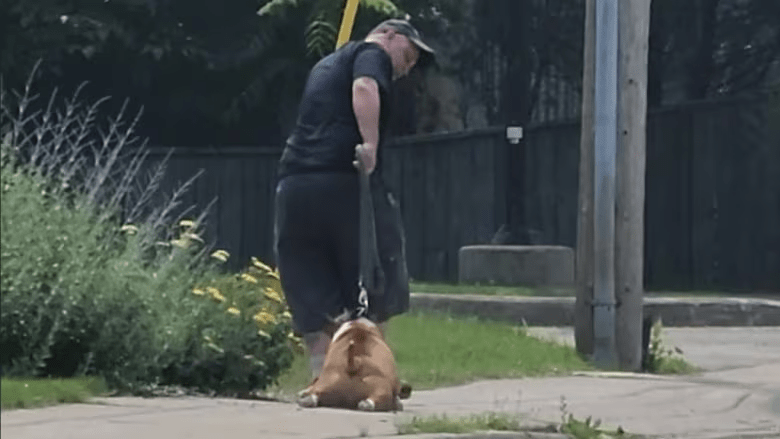 The Abuse Needs to End
In the face of poor animal protection laws and spotty enforcement, it is up to each of us to speak out when we witness animal abuse in our communities.
In Ontario, reports of an animal in distress or being abused can be made to the Ontario Animal Protection Call Centre at 1-833-9-ANIMAL (264625). You can also call the local police service, as the police are the only agency empowered to enforce criminal animal cruelty laws in Ontario.
If your municipality has by-laws concerning animal care, limiting the number of animals to a property, or requiring a license for commercial animal businesses, local by-law or animal control officers may be able to help.
Your Member of Provincial Parliament, Member of the Legislative Assembly, or municipal councillor may be able to help you navigate the limited reporting systems available.
If you try these options and no one will take action, please contact Animal Justice to see if we can assist.
By speaking out when you witness an incident, you are making an immense difference for animals. Together, we can help strengthen and enforce animal protection laws across the country.
---
Banner: CBC News