Animal Justice Academy is a FREE online advocacy course to empower you to make a better world for animals.
Join over 80 animal advocacy leaders for unprecedented learning, community, and collective action.
Current members can log in here.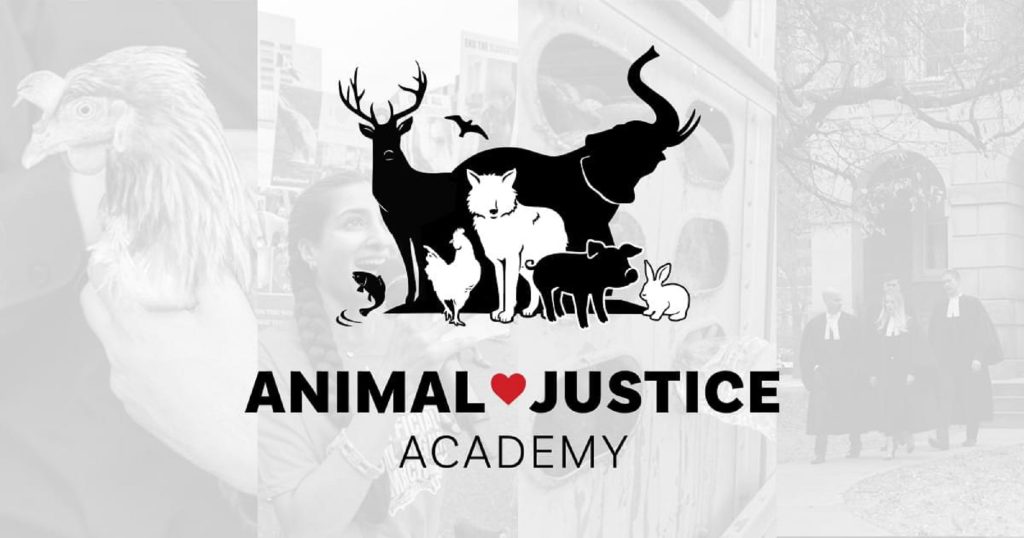 ---
Upcoming Online Events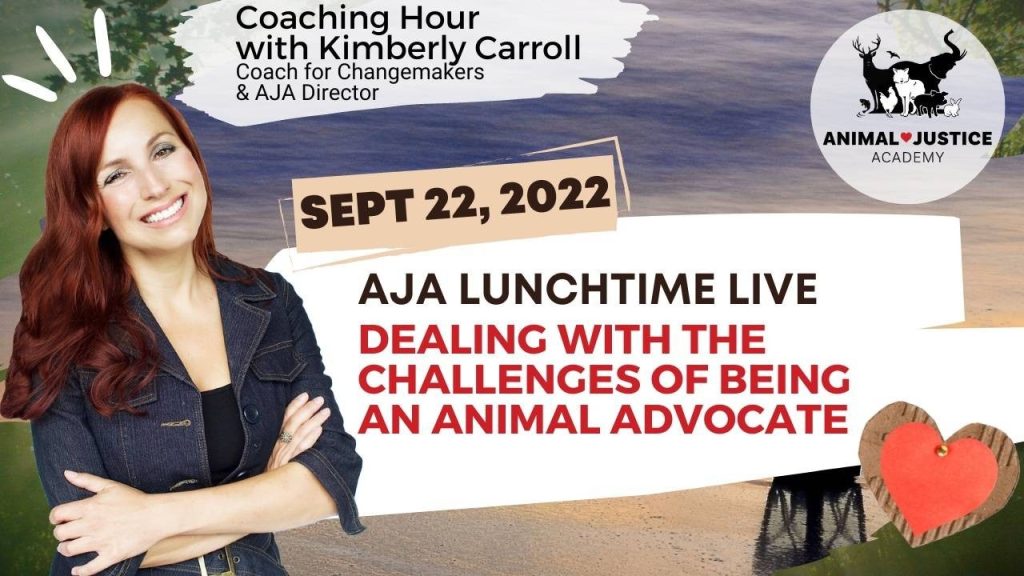 Thursday, September 22, 2022 12:00 PM EDT
Dealing with the Challenges of Being an Animal Advocate – Coaching Hour with Kimberly Carroll
---
Calling All Those Who Care About Animals…
If the images of animals suffering in puppy mills, factory farms, zoos, laboratories, and fur farms leave you feeling sad and helpless, it's important for you to know the power YOU can have, as an individual, to help them.
Animal Justice Academy (AJA) will teach you how to become an informed, vibrant, and effective champion for animals through political engagement, effective communication, media, diet, public outreach, resilience-building, and your own unique communities and social circles.
Starting exactly where you are, you'll learn tonnes of different ways to advocate for animals—from meeting with your political representative, to getting vegan food offerings at local restaurants and grocery stores, to creating captivating social media content, to learning how to have effective conversations about animal issues with your family and friends.
Whether you're completely new to animal advocacy or a veteran activist, vegan or omnivore, young or not so young ;)… AJA will give you new tools, ideas, community, and momentum for making vital change for animals.
---
Animal Justice Academy Will Help You To…
take action for animals in ways that use your unique skills and suit your personality and situation
no longer be at a loss for words around animal issues
find ways to grow compassion for animals into your own geographical and cultural communities
create habits to avoid burnout and that keep you resilient, energized, and loving
feel like you have a solid grasp on a variety of animal issues and potential solutions
determine advocacy initiatives you'd like to work on and the strategies and action steps to execute them
connect with others who care the way you do and learn from each other's advocacy journeys
make the work you do for animals have more impact and take less energy
---
THE FACULTY
Over 80 teachers/speakers. Animal protection luminaries from the worlds of media, politics, grassroots organizing, business, racial justice, nutrition, law, art, food policy, and health and wellness. Including…
Dr. Melanie Joy • Camille Labchuk • John Lewis (AKA Badass Vegan) • Jo-Anne McArthur • Elizabeth May • Jane Velez-Mitchell • Gwenna Hunter • Anita Krajnc • Nathaniel Erskine-Smith • Jake Conroy (AKA The Cranky Vegan) • Dr. Charu Chandrasekera • Jack Norris • Amy Soranno • Nahanni Fontaine • Isaias Hernandez (AKA Queer Brown Vegan) • Dave Meslin • Amy Symington • Sailesh Rao • Lesli Bisgould • Jenny McQueen • Peter Sankoff • Dr. Tushar Mehta • Kimberly Carroll • Lesley Fox • Tashi Nyima • Rob Laidlaw • Michelle Rojas-Soto • Jessica Scott-Reid • Geoff Regier • Pamela Fergusson • Stephanie Redcross • Liz White • Gabriel Wildgen • Angela Lee • Calvin Neufeld • Andy Meddick • Priya Sawhney • Sophie Gaillard • Dr. Aysha Akhtar • Gaia's Eye • Anne-Marie Campbell • Mikko Järvenpää • Sonia Faruqi • Anna Pippus • James Yurichuk • Claire Smith • Tayler Zavitz • Shawna Gray • Dr. Matthew Nagra • and so many MORE brilliant beings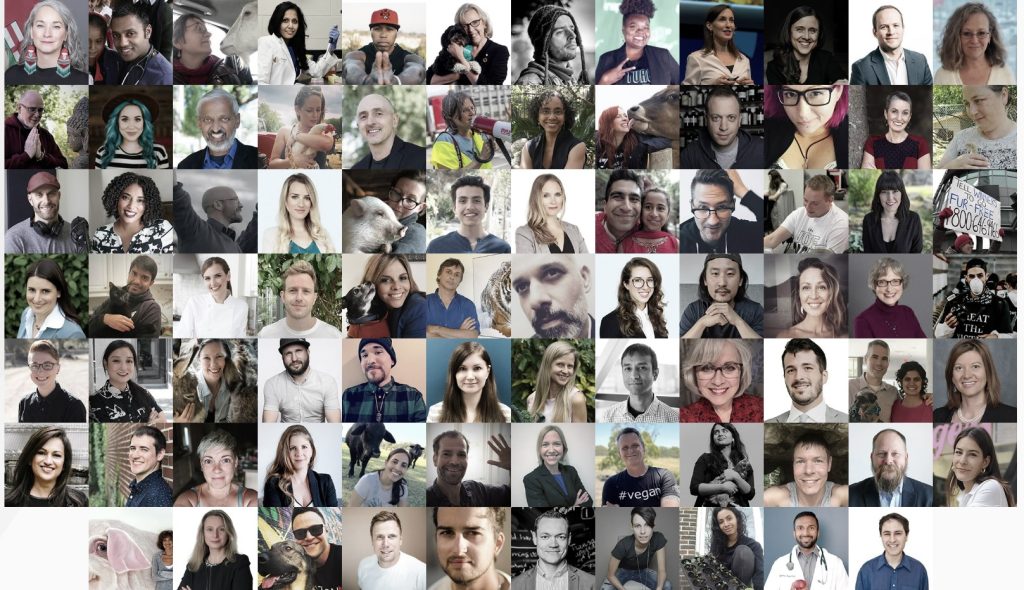 ---
THE CURRICULUM
WEEK 1:
Animal Advocacy: The Foundations
In this first week, you'll get a solid foundation in animal issues. We'll discuss the concept of animal rights and animal protections, the major areas of animal suffering, the damage of animal exploitation, our biggest challenges in animal protection, and different types of animal advocacy organizations in Canada and beyond.
Animal Sentience, Rights and Exploitation
Camille Labchuk, Executive Director, Animal Justice
The State of Animals Exploited for Food: In-Depth
Geoff Regier Former Undercover Investigator
The State of Animals Exploited in Experiments
Charu Chandrasekera, Founder and Executive Director, Canadian Centre for Alternatives to Animal Methods, University of Windsor
The State of Exotic Animals Exploited for Entertainment
Rob Laidlaw, Executive Director, Zoocheck Inc.
Animal Agriculture and the Global Environmental Impact
Dr. Tushar Mehta, ER Doctor & Co-founder of Plantbaseddata.org
The Importance of Language in the Animal Movement
Lesli Bisgould, Law Professor, University of Toronto
PANEL: The Range of Advocacy Organizations in the Animal Protection MovementVarun Virlan, Animal Save Movement
Ali Valentine, GLO Farm Sanctuary
Camille Labchuk, Animal Justice
Brittany Semeniuk, Animal Welfare Consultant, Winnipeg Humane Society
Jason Hannan, Professor, Chair of Winnipeg VegFest
The State of Animals Used in the Food Industry: Introduction
Kimberly Carroll, Animal Justice Academy Director & Coach for Changemakers
The State of Animals Exploited for Fur and Other "Textiles"
Lesley Fox, Executive Director, The Fur-Bearers
The State of Dogs, Cats, and other Animal Companions
Liz White, Director, Animal Alliance of Canada & Leader, Animal Protection Party of Canada
The Health Impact of Eating Animals
Dr. Pamela Fergusson, Vegan Registered Dietitian
Who Our Opponents Are and the Systems to Challenge Them
Camille Labchuk, Executive Director, Animal Justice
Q&A;: with Week 1 Faculty Members & Participants' Speed-Connecting SessionsGeoff Regier, Former Undercover Investigator
Dr. Tushar Mehta, ER Doctor & Co-founder of Plantbaseddata.org
Lesley Fox, Executive Director, The Fur-Bearers
Camille Labchuk, Executive Director, Animal Justice
WEEK 2:
Advocacy in Our Communities
We'll be exploring how to be effective and inclusive animal advocates at work, at school, in our neighbourhoods, institutions, and social communities. You'll learn about effectively engaging those in your close circles, intersectionality, getting more vegan products on menus and shelves, building diversity in the animal movement, and influencing businesses and institutions to be more animal-friendly.
How to Navigate Animal Rights with Family, Friends, and Colleagues
Melanie Joy, Psychologist, Author, Founding President of Beyond Carnism
Influencing Businesses on Animal Issues
Sayara Thurston, Campaigner
Effective Communications in Advocacy Situations
Lucas Solowey, PR and Communications Specialist
Fundraising for Animal Initiatives Through Your Communities
Anthony Johnson, Director of Development at Toronto People With AIDS Foundation
PANEL: Animal Advocacy at Work, School, and in Communities
Darina Bockman, President, Vegan Leaders in Corporate Management
Nital Jethalal, Toronto Vegetarian Association President & Kareena Jethala, Student Animal Advocate
Sailesh Rao, Founder and Executive Director of Climate Healers
Matthew A. King, President & Co-Founder, Christian Animal Rights Association
Nandita Bajaj, Administrator, University of Toronto Schools & Mike Farley, Geography and Environmental Studies Teacher, University of Toronto Schools
Animal Justice = Food Justice = Social Justice
Angela Lee, Assistant Professor, Ryerson University Faculty of Law
Getting Vegan Products on Menus and Shelves
Paulina Vargatoth, HSI Canada
Every Day Activism
Rebecca Owen "Vegan Pixie Warrior"
Cornerstones for Supporting Racial Equity in the AR Movement
Michelle Rojas-Soto, Managing Director at Encompass
Engaging Kids in Animal Issues
Mary-Chris Staples, Veg Student Alliance
PANEL: Intersectionality: Allying with other Social Justice Movements
Gwenna Hunter, Founder of Vegans for Black Lives Matter
Calvin Neufeld, Evolve Our Prison Farms, Transgender Advocate
Eric Vautour, Anishinaabe Vegan & Animal Rights Advocate
Isaias Hernandez, AKA Queer Brown Vegan, Environmentalist
PJ Nyman, Corporate Relations Specialist, Mercy for Animals & Gender Equity Advocate
WEEK 3:
Engaging in the Political System
Let's get political! We'll explore simple ways to get involved politically on the federal, provincial, and municipal levels to help promote animal-friendly and plant-based political initiatives and legislation.
Overview: Getting Involved Politically to Help Animals
Camille Labchuk, Executive Director, Animal Justice
10 Tips for Changing Laws
Sophie Gaillard, Lawyer & Director of Animal Advocacy, Montreal SPCA
Why Animal Advocates Should Lobby for Electoral & Democratic Reform
Dave Meslin, Community Organizer & Author of TEARDOWN: Rebuilding Democracy from the Ground Up
Government Food Policy We Can Push For
Nathaniel Erskine-Smith, Member of Parliament, Liberal Party of Canada
Supporting (& Creating) Animal-Friendly and Veg Legislators
Andrew Goodridge, Parliamentary Assistant, Parliament of Canada
Practising meetings with legislators – give three scenarios you'd like to work with
PANEL: Zoonosis: Exposing the Link Between Animal Use and Pandemics
Dr. Aysha Akhtar, MD, MPH, President & CEO, Center for Contemporary Sciences
Melissa Matlow, Canadian Campaign Director, World Animal Protection
Dr. Tushar Mehta, Co-founder of Plantbaseddata.org
Dr. Jan Hajek – Clinical Assistant Professor, Infectious Diseases, University of British Columbia
The Difference Between Federal, Provincial, and Municipal Animal Protection Laws
Peter Sankoff, Professor, University of Alberta, Faculty of Law & Animal Justice Board
Lobbying for Animals: How to Influence Policymakers
Gabriel Wildgen, Policy Fellow, Harvard Law School & Past Campaigner
Being Strategic About Legislative Change for Animals
Camille Labchuk, Executive Director, Animal Justice
Getting Political at the Local Level
Lesley Fox, Executive Director, The Fur-Bearers
PANEL: From the Mouths of Elected Politicians: Advice for Lobbying for Animals
Elizabeth May, Member of Parliament, Green Party of Canada
Nathaniel Erskine-Smith, Member of Parliament, Liberal Party of Canada
Karen Messier, City Councillor – Beaconsfield, Québec, Vegan Advocate for Animals & the Environment
WEEK 4:
Exposing Animal Exploitation
The animal exploitation and abuse that happens in North America is mostly behind closed doors and hidden from by the majority of society. We explore a variety of ways to expose animal suffering to the public and keep government and corporations accountable. We'll cover abuse reporting, planning demonstrations and actions, nonviolent strategy, utilizing complaint systems, knowing your rights, pressure campaigns, dealing with conflict, and the invasion of ag gag laws.
The Invasion of Ag Gag Laws in Canada
Camille Labchuk, Executive Director, Animal Justice
Demonstration Planning
Jenny McQueen, Co-founder of Animal Rights Toronto
Reporting Animal Abuse
Kaitlyn Mitchell, Staff Lawyer, Animal Justice
Know Your Legal Rights While Advocating for Animals
Camille Labchuk, Executive Director, Animal Justice
Intro to Nonviolent Strategy
Freeman Wicklund, Nonviolent Strategy Trainer, Boundless Love Project
PANEL: Grassroots Actions to Expose Animal Abuse
Anita Krajnc, Founder of Animal Save Movement
Priya Sawhney, Co-founder, Direct Acton Everywhere
Amy Soranno, Meat the Victims
Jenny McQueen, Co-founder of Animal Rights Toronto
A Brief Animal Rights History & Lessons From Other Social Justice Movements
Tayler Zavitz, PhD Candidate and Sessional Instructor, University of Victoria, Sociology Department
"The Cranky Vegan" on Pressure Campaigns & Getting Rid of the Moral Baseline
Jake Conroy
Conflict and Bridge-Building Tools
Kimberly Carroll, Coach for Changemakers, Animal Justice Academy Director
Using Complaint Systems
Scott Tinney, Staff Lawyer, Animal Justice
PANEL: Collaborating with the Indigenous Rights Movement on Animal ProtectionMandi Howard, 2 Spirit, Sovereignty Seeker, Animal and Indigenous Rights Activist
Nahanni Fontaine, MLA, Manitoba Legislature & House Leader of the Official Opposition, Sagkeeng Anishinaabe First Nation
Shawna Gray, Clinical Social Worker, Ceg-A-Kin Nakoda Nation
Faisal Moola, Honorary Member, Indigenous Peoples' and Community Conserved Areas and Territories (ICCA) Consortium
WEEK 5:
Expanding Your Influence & Engaging Media
This week is about how to expand your sphere of influence in order to amplify animal issues and messages. We'll explore how to produce engaging social media content, getting letters to the editor and other print pieces published in mainstream media, starting a vegan business, tips on how to be interviewed, using your creativity to advocate for animals, how to increase your Google search rankings, the power of visual mediums in animal advocacy, and even vegan investing.
The Importance of Getting Media Coverage
Camille Labchuk, Executive Director, Animal Justice
Bad Ass Vegan and How He's Harnessed Media for the Power of Good
John Lewis, "Bad Ass Vegan" & Director of "They're Trying to Kill Us"
Tips for Being Interviewed for Traditional and Online Media
Kimberly Carroll, Coach for Changemakers, Animal Justice Academy Director
Taking Media Into Your Own Hands
Jane Velez-Mitchell
Roundtable: Producing Captivating Video
Nick Schafer, Videographer/Editor/Director
Jenny McQueen, Activist, Co-founder of Animal Rights Toronto
Gabriel Nadler (Gaia's Eye) Animal Rights Activist, Musician, & Vegan Entrepreneur
PANEL: Starting a Vegan Business
Stephanie Redcross, Vegan Mainstream Founder
Roger Yang, Vegan Restaurateur – Avelo & Pizzeria Du
Tina Stokes, Founder, Vegan Stokes Cheese
James Yurichuk, CEO & Founder, Wuxly Movement
Using Social Media Effectively
Shannon Nickerson, Communications and Development Manager, Animal Justice
Getting Letters to the Editor & Opinion Articles Published
Jessica Scott-Reid, Journalist
Investing Options for Animal Advocates
Claire Smith
Get Your Animal Advocacy Content Ranking on Google
Mikko Järvenpää, Founder of Sentient Media
Getting Animal Issues into Mainstream Media
Matt Zampa, Reporter and Editor with Sentient Media
PANEL: Using Your Creativity to Advocate for Animals
Jo-Anne McArthur, Photojournalist, Founder of We Animals Media
Donald Vincent, Poet, Writer, Creative Director
Sonia Faruqi, Author of Project Animal Farm
Chantal Poulin Durocher – Art-ivist
WEEK 6:
Empowering Yourself as an Advocate
We'll explore how you can be the most effective and enduring advocate for animals possible. We'll look at how to have an optimal activist mindset and cultivate emotional and physical wellness — from practicing healthy boundaries to processing the pain of doing this work to tips to optimal vegan eating to bringing mindfulness to activism.
Healthy Boundaries and Expansive HabitsKimberly Carroll, Coach for Changemakers, Animal Justice Academy Director
Dealing with Trauma as an Animal AdvocateShawna Gray, Clinical Social Worker, Ceg-A-Kin Nakoda Nation
Vegan Cooking and Eating Made EasyAmy Symington, Nutrition Professor and Plant-based Chef
Techniques for Processing Pain and Healing Compassion FatigueKimberly Carroll, Coach for Changemakers, Animal Justice Academy Director
What if you Were Stranded On a Desert Island?: Answers to Questions Animal Advocates ALWAYS Get AskedDavid Prince
PANEL: Being a Thriving Vegan as a Form of ActivismAnna Pippus, Author, The Vegan Family Cookbook
Dr. Matthew Nagra, Naturopathic Doctor
Shashi Dissanayake, Urban Gardener & Vegan Chef, Recipe Developer
Anne-Marie Campbell, Animal Rights Activist, Vegan Athlete, Published Author, and Founder of MeatFreeAthlete.com
Tips for an Optimum & Satisfying Vegan Diet from a 30-Year Vegan & DietitianJack Norris, Vegan Dietitian & Vegan Outreach Founder
Tools for Better Focus, Motivation, and ProductivityKimberly Carroll, Coach for Changemakers, Animal Justice Academy Director
Meditation and Mindfulness for Strengthening Animal AdvocatesLama Tashi Nyima, Buddhist Teacher and Animal Activist
A Yoga Routine for Animal Advocates: Heart Centering PracticeStephanie Kittell, Yoga/ Movement/ Mindfulness Facilitator, Co-Founder of www.spaceof.love
PANEL: Animal Justice Academy Action-Takers
---
FREQUENTLY ASKED QUESTIONS
WHAT IS THE LEVEL OF COMMITMENT?
Right now, this program is self-paced, so you decide how much time you want to put into this each week. Currently in the AJA Facebook group, we're taking a month to go through each week of curriculum.
If you'd like to join the community live, the monthly panels are 90 minutes, and the biweekly Lunchtime Live sessions are 1 hour. We also recommend putting a little time aside to take part in the weekly AJA Actions.
How much you decide to participate is up to you…just keep in mind that this is a one-of-a-kind opportunity to grow yourself into a truly powerful force for animals.
DO I NEED TO BE CANADIAN TO DO ANIMAL JUSTICE ACADEMY?
We are based in Canada, but we welcome international folks to the program! There will be quite a few references to situations in Canada, but the lessons and tools are pretty universal.
---
ENROLL IN ANIMAL JUSTICE ACADEMY
Click ENROLL NOW below to fill out the registration form. Upon submission, you'll get confirmation of your registration. You'll also get an email explaining next steps.
We'll see you inside the academy!
SUPPORT US
We made Animal Justice Academy free so it can be available for everyone, but if you'd like to support our efforts to help advocates make a larger impact in the lives of animals, please consider donating to Animal Justice Academy.